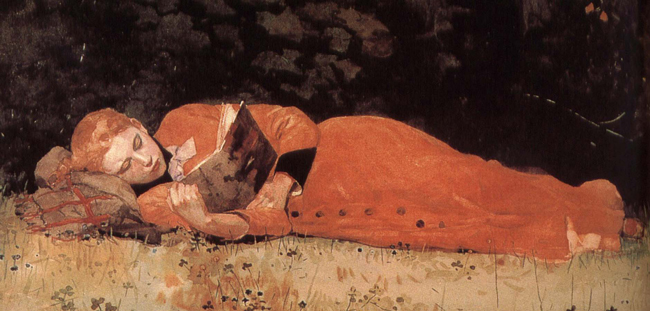 By Neale McDevitt
For the second year in a row, the Reporter put a call out to the McGill community to share with us their holiday reading lists. The response was enthusiastic as we received input from virtually every constituency of the university including students, staff, faculty, alumni and upper administrators.
Not surprisingly, the list we've compiled is long, challenging at times and diverse, ranging from fiction and non-fiction to poetry and even podcasts. If you're still deciding what you want to read over the break and need some inspiration, or if you just want to know what books are on the respective night tables of McGillians, read on.
Provost Anthony C. Masi has lined up the following books for his holiday reads, Austerity: The History of a Dangerous Idea, by Mark Blyth; Abundance: The Future is Better than You Think, by Peter H. Diamandis and Steven Kotler; The Second Machine Age: Work, Progress, and Prosperity in a Time of Brilliant Technologies, by Erik Brynjolfson and Andrew McAfee; and Mass Flourishing: How Grassroots Innovation Created Jobs, Challenge, and Change, by Edmund Phelps
Ingrid Birker, Science Outreach Administrator at the Redpath Museum, has a trio of books on her holiday wish list. They include Boundless, by Kathleen Winter; The Organized Mind: Thinking Straight in the Age of Information Overload, by McGill prof Dan Levitin; and the Giller-winning novel Us Conductors, by Sean Michaels, "because I played my friend Brian's theremin a long time ago and have always been enraptured by this amazing instrument and the story of its inventor, Lev Teremin."
Andrew Mullins, Communications Officer with University Advancement, is planning to read William Faulkner's Light in August, partially because "one of the main characters is named Joe Christmas – though I know better than to expect any holiday cheer from that coincidence." He will also "revisit" poetry collections of Seamus Heaney, T.S. Eliot and Shakespeare (sonnets, Venus and Adonis) that will be "rotating on the coffee table." Finally, Mullins says, "I hope to sneak extended peeks at McGill professor Gabriella Coleman's book about Anonymous – Hacker, Hoaxer, Whistleblower, Spy – after I give it to someone as a gift."
Lynn Mark, Alumni Relations Officer, sent the following two selections (Shoot the Moon, by Billie Letts and Crazy Rich Asians, by Kevin Kwan) but says, "I plan on adding more, so I look forward to everyone else's list for ideas."
Chandra Madramootoo, Dean of the Faculty of Agricultural and Environmental Sciences, has four books teed up for the holidays. They include How We Lead: Canada in a Century of Change, by Joe Clark; Rise to Greatness: The History of Canada from the Vikings to the Present, by Conrad Black; The Big Shift, by Darrell Bricker and John Ibbitson; and I am Malala: The Girl Who Stood Up for Education by Malala Yousafzai.
Barbara Lewis, Special Projects Officer (University Services) first contacted the Reporter to suggest asking Jim Nicell, Dean of the Faculty of Engineering, about his holiday list, noting "he always has an interesting, eclectic list of books he's reading or about to read."
When asked about her own list, Lewis said she will be finishing Dr. Brinkley's Tower, by Robert Hough – last year's Christmas gift from her son. "He was sure I'd enjoy the description of life in a small Mexican border town, which evoke for me the many stories my Grandmother used to tell of her childhood in Cananea, Mexico. He was right, but it's a great romp that anyone can enjoy," she says, noting that she's also looking to delve into The Black Swan, by Nassim Nicholas Taleb and Us Conductors, by McGill grad Sean Michaels. It is the second appearance of Us Conductors on our list.
"And, of course, whatever wonderful books my son picks out for me this year," she says. "Last year's highlight choice was The Orenda, by Joseph Boyden. "Loved it!"
Lewis's assessment of Jim Nicell's reading list was pretty accurate – interesting and eclectic… and challenging. "A lot of people comment on my 'light reading,' says Nicell, Dean of the Faculty of Engineering. "But I find it nicely distracting to have to focus on heavy reading. I think it is a bit like meditation." Over the holidays, Nicell plans on meditating on a number of books including The Bully Pulpit: Theodore Roosevelt, William Howard Taft, and the Golden Age of Journalism, by Doris Kearns Goodwin; Queen of Scots: The True Life of Mary Stuart, by John Guy; and Godel, Escher, Bach: An Eternal Golden Braid, by Douglas R. Hofstadter.
"I have been waiting almost 20 years to read Godel, Escher, Bach," says Nicell. "When I first attempted it, I didn't think I was smart enough to really understand it. My hope is that I will be up to the challenge this time. Perhaps eggnog will help."
Abida Subhan, Co-Ordinator, Departments of Animal Science and Natural Resource Sciences, Macdonald Campus, has a plan to "try out new authors, especially Canadian." To this end she has armed herself with a collection of short stories by Alice Munro, and a mystery novel by Louise Penny. Subhan will also tackle The Witness, by Nora Roberts.
Kelly Bonin, Manager of Business Development, McGill Executive Institute, has his sights set on a single book – Strategic Assumptions: The Hidden, Yet Powerful Beliefs that Control Every Decision You Make, by Mark Hollingworth.
Wayne Wood, Associate Director, University Safety (EHS), will be mixing a little business with pleasure over the break. "I have to read a new textbook I assigned to the safety course I teach in the Occupational Health Masters Program. It is called Accident Prevention Manual Essentials, by Philip Hagan, which most people (except me) will find to be dry reading," he says. "But the book I am most looking forward to reading is called Thinking Fast and Slow, written by Nobel Prize winner Daniel Kahneman. I am hoping it will help me understand the sometimes irrational behaviour around risk-taking and the tendency to ignore the best in scientific evidence in favour of unproven beliefs, practices and therapies."
Merika Ramundo,
Communications Officer for the McGill University Library, is planning on a holiday spent largely curled up with a good podcast. "I will be listening to the Serial podcast from start to finish," she says. "I have heard nothing but good things from friends – the writing is superb, the true story riveting and the case is yet to be solved."
Jessica Berger, Associate Director, Donor Relations, is one of three repeat holiday book listers from last year, who had readied two books for a Mexican vacation. "For the record, I finished Wool [by Hugh Howey] on vacation last year, but only got through about 200 pages of The First Circle [by Aleksandr Solzhenitsyn]. I'll find my way back to it someday, but it's not exactly a beach read as I discovered." This year Berger has lined up NW, by Zadie Smith and Tell the Wolves I'm Home, by Carol Rifka Brunt
José María Mateos, a postdoctoral researcher at the MNI will be reading Legacy of Ashes: The History of the CIA, by Tim Weiner, a book he considers "pretty relevant given the latest news reports."
Natasha Racco, who earned her BA from McGill in 2013 and is currently working for Porsche Centre Oakville as a Customer Care Consultant, has no fewer than five books lined up for the holidays. Her selection includes A House in the Sky, by Amada Lindhout and Sara Corbett; Darling You Can't Do Both, by Nancy Vonk and Janet Kestin; Sapiens: A Brief History of Humankind, by Yuval Noah Harari; The Athena Doctrine, by John Gerzema; and Yes Please!, by Amy Poehler
Raphaël Fischler, Director of the School of Urban Planning hasn't finalized his list yet but two novels that have already made the cut are La Cousine Bette, by Honoré de Balzac,;and L'enfant qui savait parler la langue des chiens, by Joanna Gruda.
Benjamin Mappin-Kasirer, one of McGill's two most recent Rhodes Scholars plans on reading Americanah, by Chimamanda Ngozi Adichie; and Les gommes, by Alain Robbe-Grillet.
Daniel McCabe, Editor of the McGill News Alumni Magazine, tries to balance fiction with non-fiction over the holidays. "For the non-fiction, I feel like doing a deep-dive into a lively, thoughtful analysis of recent Canadian political history," he says. "It'll be a coin-toss between The Longer I'm Prime Minister, by Paul Wells; and The Morning After, by Chantal Hébert and Jean Lapierre. If I have the time, I'll read both."
On the fiction front, McCabe is looking to tackle The Interestings, by Meg Wolitzer and/or Heather O'Neill's The Girl Who Was Saturday Night. "I also like books with pictures in them – occasionally featuring people in silly costumes hitting other people in silly costumes," he says which means he may be reading Mark Waid and Chris Samnee's "fun run" on Daredevil; or Canadian Jeff Lemire's recent work on Green Arrow.
"And, because some graphic novels DON'T involve silly costumes, I'm thinking of checking out Roz Chast's Can't We Talk About Something More Pleasant? It's supposed to be funny and poignant, it's about caring for aging parents and it's turning up on a bunch of 'Best of 2014' lists," he says.
Salima Visram, now in her final undergraduate year in International Development Studies, plans on reading The Power of Now; by Ekhart Tolle and The God of Small Things, by Arundhati Roy.
Over the holidays, Pauline Frixione, Convocation and Chief Returning Officer, is looking forward to curling up with Gone Girl, by Gillian Flynn, and The Truth About Negotiations, by Leigh Thompson.
David Harpp, Macdonald Professor of Chemistry and the Tomlinson Chair in Science Education, has set his sights on a pair of Malcolm Gladwell books – Outliers and David and Goliath. "Maybe the latter will help me slay some academic issues that surround us," he writes.
Karl Moore, a professor in the Desautels Faculty of Management, has lined up no fewer than five books "dipping into one and then into another and back and forth." Moore's list includes Rise to Greatness: The History of Canada, by Conrad Black (the second appearance of the book on our list); The Firm: The Story of McKinsey, by Duff McDonald; Intellectuals Don't Need God & Other Modern Myths, by Alister McGrath; Hope to Die, by James Patterson; The Village Effect, by Susan Pinker.
"Here's a few," says Martin Grant, Dean of the Faculty of Science, of his six-book list. Strange Brew: Eric Clapton and the British Blues Boom 1965-1970, by Charles Horton Christopher Hjort; Fluid Mechanics, by L. D. Landau and E. M. Lifshitz; The Structure of Scientific Revolutions: 50th Anniversary Edition, by Thomas S. Kuhn; An Officer and a Spy, by Robert Harris; A Man Without Breath, by Philip Kerr; and Collapse: How Societies Choose to Fail or Succeed: Revised Edition, by Jared Diamond.
Anne Suzanne Leahy, an adjunct professor at the Faculty of Religious Studies has a trio of good reads lined up: Anthill, by E.O. Wilson; Le présent liquide, peurs sociales et obsession sécuritaire, by Zygmunt Bauman; and Quand l'Europe parlait français, by Marc Fumaroli.
Kimberley Stephenson, Trade Buyer at the McGill Bookstore, also submitted a reading list last year. "I looked back at last year's list and realized I forgot to read the Drunken Botanist, by Amy Stewart, so that just hit the top of the list," she says. As for the rest, Stephenson will tackle The Children Act, by Ian McEwan; Tennessee Williams, by John Lahr; Hush Hush, by Laura Lippman; and Boundless, by Kathleen Winter – the second time Winter's book has appeared on this list.
Mariusz Galczynski, a lecturer in the Dept. of Integrated Studies in Education, says "Since I always travel over the holiday break, I treat myself to leisure reading as I pass the time on trains, busses and airplanes. Right now I'm finishing up Salvador Plascencia's surreal debut novel, The People of Paper. Next in line are two non-fiction titles: Alastair Bonnett's Unruly Places: Lost Spaces, Secret Cities, and Other Inscrutable Geographies; and the newest biography of Polish musical icon Maryla Rodowicz, titled after her song, Wariatka Tańczy (which translates to The Madwoman Dances). And as I'm wrapping up my doctoral thesis in education, I'll try to find time to leaf through Lisa Delpit's Multiplication is for White People: Raising Expectations for Other People's Children. Finally, I hope to see my family and friends reading my first book, Redefining Multicultural Education: Inclusion and the Right to Be Different, co-authored with McGill professor Ratna Ghosh – I can guarantee that it's going to be a popular Christmas present this year!"
David Syncox, Graduate Education Officer at Teaching and Learning Services, notes that his six-book list is "an aspirational reading list… if I dig through at least one I will have accomplished my goal." His choices include "anything by Rawi Hage"; the Jack Reacher series, by Lee Childs ("This is the one full of testosterone," says Syncox.); A Sense of Ending, by Julian Barnes; Half a Yellow Sun, by Chimamanda Ngozi Adichie; The Beauty of Humanity Movement, by Camilla Gibb; and The Housekeeper and the Professor, by Yōko Ogawa.
Stephanie Wereley, Digital Community Communications Assistant at the McGill School of Continuing Studies, will be reading Invincible, by Laura Hillenbrand. "It's the French translation of 'Unbroken,'" she says. "I'd like to practice my French and finish the book around the same time that the film version comes out on Christmas Day." Wereley is also going to read The Devil in the White City: Murder, Magic and Madness at the Fair that Changed America, by Erik Larson, because, as she says, "I'm visiting Chicago for the first time over the holidays, and this book takes place there."
Related story
What books are on McGill's nightstands for the holidays (2013)