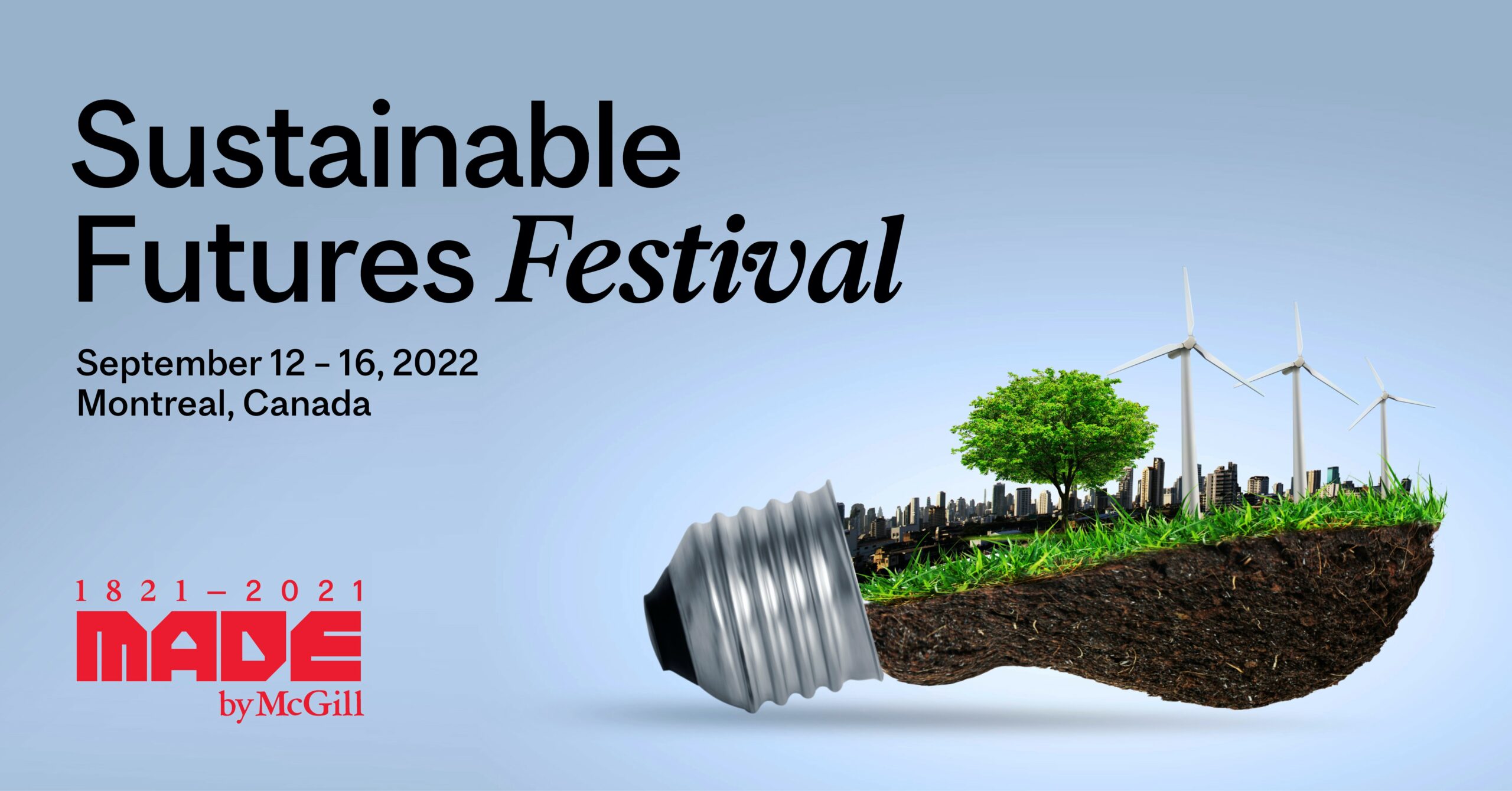 The Sustainable Futures Festival will celebrate the future of sustainability at McGill and beyond, while providing a space for attendees to grow, innovate, and collaborate. The Festival will highlight the diverse ways the McGill community is addressing sustainability through its research and operations​, as well as creating opportunities for students to explore sustainability-related projects and careers.
"After so much time away from campus, we are excited to celebrate McGill's sustainability community during the Sustainable Futures Festival," said Executive Director of Sustainability Francois Miller. "We look forward to reflecting on the progress we have made while envisioning the future of sustainability at McGill together." The Sustainable Futures Festival is a major collaborative project, with events hosted by the Bicentennial Office, McGill's Office of Sustainability, McGill Sustainability Systems Initiative, Bellairs Research Institute, Gault Nature Reserve, Desautels Faculty of Management, and many more.
Visit the Sustainable Futures Festival program and take part in this special week of events.
200 trees for 200 years
On Monday, September 12, to launch the Sustainable Futures Festival, McGill's Bicentennial Office, in partnership with Macdonald Campus Farm and Facilities Management and Ancillary Services, is gifting plum trees to elementary and high schools across Montreal and neighbouring cities. This synchronous event kicks off back-to-school season in a positive light by encouraging children to care for nature, and to learn about their tree and its benefits on the environment. The tree giving initiative symbolizes the love of learning that McGill has instilled for generations across Montreal and its wider community.
Thousands of plants ready for pick-up
Last year, the first community plant giveaway gifted 6,000 plants to students, staff, faculty, alumni, and Montrealers. Back by popular demand, the Community Plant Giveaway returns as a flagship event of the Sustainable Futures Festival. In collaboration with McGill's Office of Sustainability and the Macdonald Campus Farm, the Bicentennial Office is gifting thousands of Tradescantias and Asclepiads plants to the McGill community. There will also be plum trees available. Plants and trees are available on a first-come-first-serve basis.
Pick-up your plant on Tuesday, September 13, from 11 am to 2 pm at Macdonald campus, and Friday, September 16, from 11 am to 2 pm on the downtown campus. Plants will be distributed at Gault Nature Reserve on Monday, September 12, from 1 to 3 pm.
In addition to picking up a plant at the downtown campus on Friday, September 16, Security Services will be hosting its annual Community BBQ for faculty and staff, to be held at noon at the Three Bares. Email student.security@mcgill.ca by no later than Friday, September 9, to confirm your presence and include the number of people attending, as well as their names and Faculty or Department.
Network at the Career Fair
McGill students: On September 14, from 9 am to 4 pm, discover a career with a purpose, at a company that aligns with your values. The Sustainable Futures Career Fair is your opportunity to network with professionals in the field of sustainability.
There are two ways to participate: Exploration talks, to gather information, to learn about opportunities and career paths, and to distribute your CV; and Real Talks, where you and three other students can register for 30-minute sessions to hold in-depth conversations with a company representative.
Celebrate contributions to sustainability at the Catalyst Awards
On Thursday, September 14, from 5:30 pm to 7:30 pm at the McCord Museum, celebrate outstanding contributions to sustainability at McGill at the 2022 Catalyst Awards Gala, hosted by the McGill Office of Sustainability, as we gather over food and drinks to toast the McGillians who have made our University a more sustainable place to work and study. Registration is required, reserve your spot.
Sustainability Soirée
Explore sustainability-related research, initiatives, and student groups at McGill during the Sustainability Soirée on Wednesday, September 14, 2022, from 4 pm to 7 pm in the Thomson House Ballroom. This evening of food, drinks, knowledge-sharing, and networking aims to create a more open, connected, and sustainable university. Meet with project teams who have received support from the Sustainability Projects Fund (SPF), as well as student and faculty researchers funded by the McGill Sustainability Systems Initiative (MSSI). This event is hosted by the McGill Sustainability Systems Initiative and the McGill Office of Sustainability.
See the complete Sustainable Futures Festival program and invite your friends.
McGill's 200th anniversary is an occasion to highlight the importance of collaboration and innovation in sustainability, locally and beyond. As the Bicentennial is coming to a close at the 2022 Homecoming this October, the Festival is one of the final opportunities to take part in Bicentennial celebrations.