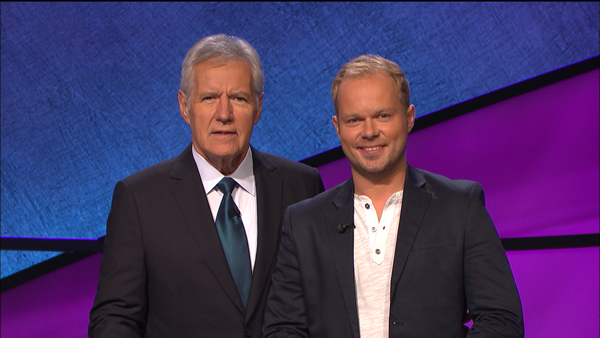 McGill lecturer and PhD student tests his mettle on iconic Jeopardy! quiz show
By Neale McDevitt
If nothing else comes of Mariusz Galczynski appearance as a contestant on Jeopardy!, at least he'll have worked on his tan – on both coasts.
Galczynski, a lecturer and PhD student in the Department of Integrated Studies in Education, is slated to appear on the popular American quiz show Jeopardy! on Tuesday, Nov. 25.
Originally created by Merv Griffin and hosted by the iconic Alex Trebek since 1984, Jeopardy! tests, in increasing levels of difficulty, the general knowledge of participants by providing clues phrased as answers.
And while he can't disclose how he fared (the show was taped in early October), Galczynski was allowed to talk about the odyssey he undertook in order to finally be able to say, "I'll take American Cheeses for $500, Alex."
"It really is quite an involved process, that was part skill and part luck," said Galczynski.
It all began with Galczynski taking an online quiz in which he had to answer 50 questions on a broad range of topics. "You get about eight seconds per question, so it goes pretty fast," he said.
A good result meant Galczynski moved on to the next phase of qualifying – and the only one that was based purely on the luck of the draw. Literally.
"The names of the qualifiers went into a pool and we were selected by a lottery," said Galczynski. "It doesn't matter how smart you are. If your name isn't drawn, you don't move on."
But luck was on his side and Galczynski made it to the audition part of the process. When registering for the initial online quiz, contestants are asked to pick from a list of cities where they would do their onscreen audition. "There was nowhere very close to Montreal, so I picked Miami," said Galczynski with a chuckle. "I figured I could work in a little beach time as well."
Like all great odysseys, however, there were obstacles to overcome. "The audition fell on the last day of class, so I had to get someone to teach for me," said Galczynski.
He also had to be on hand as a Masters student was submitting their capstone project. "The timing was so tight that I had to take an overnight bus to Toronto in order to catch the only flight that would get me to Miami on time."
Arriving in Florida without having slept, a bleary-eyed Galczynski made his way directly to the hotel where the auditions were being held.
Once again, Galczynski was given a written pop quiz. He also played a simulated game against other contestants; and was asked to submit biographical information that would be interesting to viewers. "I was younger than most of the other people and I was one of the only blonds, so I thought maybe from a TV point of view, I had a chance."
But some doubt crept into his mind when, at the end of the audition, Galczynski was told that if he didn't hear from producers within 16 months, he was free to try out again. "Other people I spoke to said that this was their third or fourth time trying out," he said.
Happily, within a month, Galczynski got the call. He had made it. Now he had to get himself to Los Angeles in October for the taping of the show.
In the weeks leading up to the taping, Galczynski prepared by competed in various trivia nights both at McGill and in local bars around the city. He even printed off lists of facts of specific topics that he felt weak in. "Dates, wars, U.S. presidents," he said. "I crammed the night before."
But, as was the case in Miami, Galczynski's stay in L.A. wasn't just wall-to-wall cramming. "I also got in more beach time and some Disneyland," he said with a laugh. "I tried to balance the stress of the show with some personal time."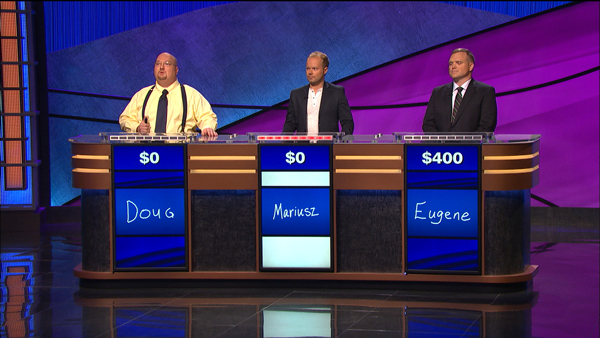 Galczynski says the taping of an episode of Jeopardy! takes about as long as it takes to watch one. "Just like on television, they move quickly from one question to the next," he says. "No breaks for makeup or costume changes."
The pace has to be brisk in order to tape five episodes a day. And, unlike the way it is portrayed on television, the winner doesn't get to go home to relax and regroup before coming back the next day. Winners get 10-15 minutes to quickly change their clothes before taking on two new challengers.
"We were all told to bring three or four changes of clothes," said Galczynski. "In case you win, they want it to look like you are coming back the next day."
Watching the first episode being taped from the audience, Galczynski was ready when he got the call for the second taping. "I had done a lot of Quiz Bowl [a quiz game in the United States that pits teams of students against each other], so I was used to buzzing in and the competitive atmosphere," he said. "But the timing was key because you have to wait until Alex Trebek reads the whole question before you hit the buzzer. Otherwise you are penalized a few seconds before you can buzz again."
While he can't say how he did, Galczynski says he was confident going in to the show because of his diverse background. "I have an undergraduate degree in literature and a Masters in humanities – and I am very interested in music, art history, geography and pop culture. I'm a generalist, which I think is a plus in a game like Jeopardy!"
But, he also admits that a lot of that general knowledge he had amassed in high school and as an undergraduate student had disappeared. "I think if I had done this right after high school I would've done better. The content was so fresh back then," he says. "But over time you lose some – especially as a PhD student where you spent a lot of time thinking about complex theoretical ideas. I feel like some of the facts had been shaken out of my brain."
So, did he win or did he lose? Galczynski isn't talking so the only way to find out is to tune in on Nov. 25, at 7 p.m. EST on the NBC-affiliate WPTZ from Burlington/Plattsburgh. For those interested, Mariusz has organized a viewing party at Thomson House (3650 McTavish, main floor, television room) beginning at 6:30 p.m.