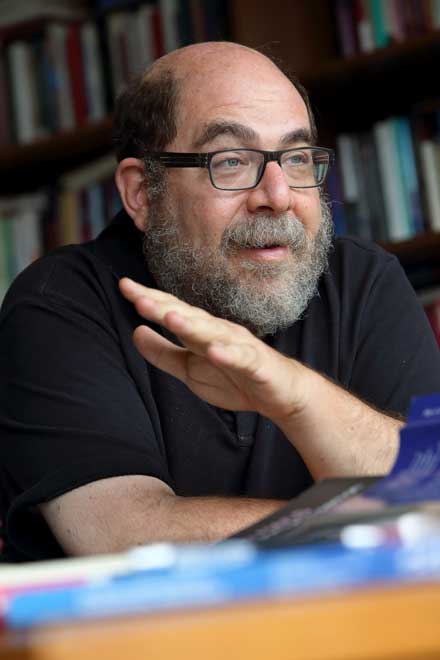 Law professor Daniel Weinstock has been appointed to the position of Director of the McGill Institute for Health and Social Policy, an interdisciplinary institute housed within the Faculty of Medicine. Prof. Weinstock, whose appointment takes effect August 1, replaces Professor David Wright who has served in this role on an interim basis since January 2013.
A two-time McGill Graduate, Prof. Weinstock received his PhD in Philosophy from Oxford University. Following post-doctoral training in the United States and Montreal, he joined the Department of Philosophy at the Université de Montréal in 1993. He became a member of McGill's Faculty of Law in August 2012.
Prof. Weinstock has held a Canadian Research Chair on Ethics and Political Philosophy and was the founding Director of the Research Centre on Ethics at the Université de Montréal (CRÉUM). He has taken up leadership roles in a large number of interdisciplinary research groups, including, most recently, the Montreal Health Equity Research Consortium. Prof. Weinstock has been honoured with numerous awards including being named as a Prize Fellow of the Pierre Elliott Trudeau Foundation (2004) and a recipient of the André-Laurendeau Prize given by the Association canadienne-française pour l'avancement des sciences.
Prof. Weinstock has been an active participant in public policy for many years, including being the founding Director of Quebec's Public Health Ethics Committee – a role that he assumed from 2003 to 2008 – and serving as a member of the Ethics Advisory Committee of the Public Health Agency of Canada since 2010. Most recently, he was a member of the Expert Panel on End-of-Life Decision-Making of the Royal Society of Canada. His research and teaching explore how legal, ethical and empirical considerations interact in the making of public policy, and he has published more than 100 articles in scholarly books and journals. He has lectured around the world in both academic and public policy settings.
As Director of McGill's Institute for Health and Social Policy, Prof. Weinstock will ensure continued success towards the advancement of the Institute's mission to conduct and support world-class research on how social conditions impact population health and welfare. Prof. Weinstock will lead programs designed to translate research findings into policies and programs on national and global scales.