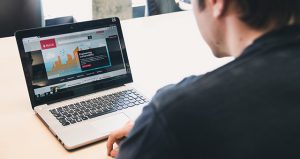 Is your mcgill.ca website in need of a refresh? You can get some free help from the Web Communications team in the Office of Communications and External Relations. The team can help you plan improvements to your site's organization and content, and turn that plan into reality. With a wide variety of services, they can help you make the best use of your online space.
Last year, the Web Communications team created or overhauled 27 sites, and provided consultative support to 60 McGill units. The team is available for everything from short sessions to full website overhauls. An overview of free services, and an online resource for all mcgill.ca website best practices, is available on the Web 101 site. Read on for some tips and tricks.
Web 101 Lunch & Learn
McGill Web editors might already be familiar with the free Web 101 Lunch & Learn sessions, covering topics such as menus and architecture, writing for the web, images, layout, and more. You're invited to the next session about how Google analytics and user testing can help improve your site.
Those who are interested should take this sample usability test before the event, which is being held at 688 Sherbrooke, room 1041 on Wednesday, June 11 at noon. If you can't make it, or if you would like to watch past Lunch & Learn events, recordings are available.
Planning
If you're in the planning stages of making improvements to your site, the Web Communications team can meet to discuss what you are trying to communicate through your site, the scope of the project, the target audiences, and a project timeline.
Menus and architecture
Drafting a blueprint for a website's architecture, or how the pages and menus are organized, is an important step for putting information in a clear structure that users can easily understand and navigate. Web editors should think about what needs to be on the site, and what doesn't. Are there overarching themes? Is some content for a specific, or a general, audience? Content can be grouped intuitively in a hierarchy, becoming sections and sub-sections of a website.
Most important, the information has to be organized in a way that is intuitive to the site's users.
To test your website's usability with your key audiences, the Web Communications team can set up and run a usability survey to see how users interact with a site. Can they find what they're looking for? If not, why? These survey results can help put web editors in the user's shoes and influence changes. For more information about setting up a usability test on your site, contact the Web team and visit the Web 101 site for tips on building a clear architecture.
Writing
Many have probably heard that people don't like to read on the Internet. That's only partly true. Well-written web content has its own set of best practices, allowing users to better digest information from a screen. To learn more, see the Web 101 website to learn how to best communicate online, or contact the Web team to set-up a consultation.
Google Analytics and usability testing
Web editors want to provide their users with the best possible experience – Google Analytics traffic reports and Loop11 usability testing can help. The Web Communications team provides site traffic reports to more than 100  one hundred McGill site editors, as well as individualized usability testing on request. This actionable data gains insight into user activity. If you'd like to request a Google Analytics report for your site, please write the Web team with the URL and how frequently you'd like to receive reports.
Layout and images
Once happy with a site's menu organization and writing, it then becomes time to work on creating pages that are visually pleasing. An organized page affects how users find and retain information, and gives the site a clean look. For example:
Ensure writing is skimmable by using headings and bullets, and organize information using tables, blocks, accordions, and anchors.
To add emphasis, writing in italics or bolding text can be effective – but only if it's used sparingly.
Writing in ALL CAPS, which is hard to read and also translates as shouting, should be avoided. Underlining content online is misleading, since it can be mistaken for clickable links.
When choosing images for a site, quality, purpose, and ownership are key. Well-selected images can add importance and polish to a page. A poor quality image can detract from the rest of the content and send the wrong message – the last thing you want is to appear amateur or untrustworthy. If you don't know the origin of the image, don't use it.
For a handy photo layout reference, including dimensions and suggested photo editing software (don't worry – they're free), see the Web 101 site's section about images.