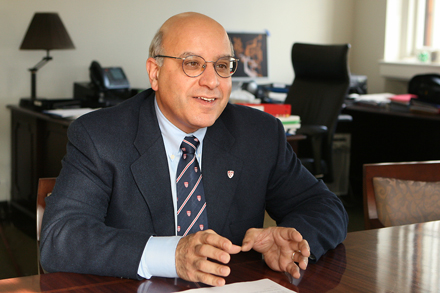 By McGill Reporter Staff
As the 2014 fiscal year draws to a close in April, the University's financial planning for next year, as well as its forecast to 2019, is taking concrete shape, Provost Anthony C. Masi told Senate last Wednesday in the second of three updates on McGill's budget.
Masi said that, thus far, the University appears to be on track to closing this fiscal year (FY2014) with the $10-million operating deficit projected when the budget was tabled last April. This will leave the University with an accumulated operating deficit of $118.3 million. The cost-reduction measures that were implemented this fiscal year are keeping McGill's deficit as a relatively reasonable level. Given the magnitude of the government reduction in funding over the last two years, Masi reported that without those measures this year's annual operating deficit could have reached $37.8 million, pushing the accumulated operating deficit to $145.8 million
Looking ahead to fiscal 2015, and beyond
The main priority over the next five years remains supporting McGill's academic priorities while at the same time balancing McGill's operating budget. In fact, in order to qualify for some of the money Quebec thus far plans to re-invest in the province's university system, McGill will actually have to generate small surpluses, said Masi. This will allow the University to achieve three main objectives:
• Paying back within five years the operating deficit accumulated in FY2013 and FY2014 following the operating grant cut. The University will need to set aside an average of $5 million per year for that purpose.
• Allowing McGill to meet its existing commitments, including salary increases, pension and pay-equity expenses, as well as investments in information technology, the costs of borrowing for deferred maintenance and planning for new research and teaching space.
• Finding money to fund key strategic projects aligned with the University's strategic priorities as outlined in the ASAP 2012 white paper.
"All along, we have been using ASAP to guide our planning and remain clear on what our priorities are," Masi underscored.
To achieve these objectives, Masi indicated McGill must stay on track in two important aspects. First, the cost-reduction measures reached this fiscal year must be maintained. The Provost pointed out that this remains crucial because "the savings reached through these measures must be used to pay our existing bills, which continue to grow." Second, the University must find new ways to diversify operating revenue. "Further deregulation of tuition for international students, trying to improve the University's research performance, and thinking about new ways to generate additional operating revenue in ways that will not compromise McGill's mission and values, are all on the menu," Masi said.
Main revenues & expenses in FY2015
The big item on most minds is the Quebec government's promised reinvestment plan. But how much will McGill receive and what can it spend this money on remain unanswered questions. Masi said the Quebec government is promising a 6.7-per-cent increase in McGill's operating grant for next fiscal year, starting this May. Putting this in perspective, McGill's operating grant was cut by a little over 5.2 per cent in December 2012. Subsequently promised increases through 2019 are more or less pegged only to rate of inflation and some other modest indexation.
For McGill, next year's increase in operating funding will be about $20 million, but Masi indicated that it could reach $27 million depending on if and how Quebec will increase its base support to higher education. Putting this in context, next fiscal year McGill is facing major increases in expenses: employee salary increases just for next year will total $17.2 million, pension liabilities represent another approximately $13 million, and the retroactive payments for pay-equity (covering a period of more than ten years) have thus far cost more than $20 million.
"In theory, the new funding could represent progress," Provost Masi said. "But the challenge is that many of the envelopes have strings attached, which means they can only be spent on line-items that will have to be earmarked and preapproved by the Ministry. These funds used to be in an "unrestricted" envelope, but increasingly the government directs universities to certain types of expenditures."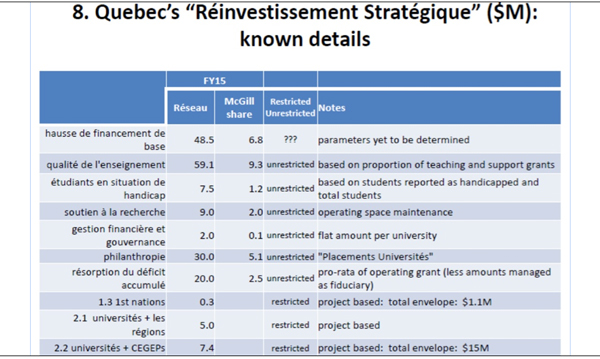 The Provost cautioned that universities are expecting to receive approximately the same level of funding with the reinvestment as they would have if funding had been maintained without last year's cuts and simply indexed to cost of living.
The road ahead
"It is in McGill's long-term best interest to break even next year, and function on a balanced budget to pay down its accumulated debt," Provost Masi said. A balanced budget and low accumulated deficit means predictability to plan and stability to implement those plans. Though some signs are promising, the current five-year outlook prompted the Provost to conclude that "we are not out of the woods yet."
Even within a balanced budget framework, however, the Provost insisted that some funding has to be made available for strategic initiatives to strengthen McGill's academic and research missions. Masi maintained that with very limited resources compared to our peer universities, "it is clear that there isn't enough money for everything we'd like to do, so the McGill community will have to make choices."
When asked what then gets sacrificed, the Provost replied: "ASAP has 10 priorities, out of those, we have selected three for special consideration: (1) advancing McGill's academic and research excellence, (2) keeping a sustained focus on the quality of our students' life and learning experiences, (3) continue to raise McGill's external visibility, success and reputation. During budget planning, I meet on a regular basis with Deans to discuss what they see as priorities for their faculties within these main parameters. The Deans then integrate their priorities into the agreements we sign."
Masi said that having to choose means that other priorities down the ASAP list might get less attention for now. "We had to give up some 340 administrative and support positions this year," he said. "On the other hand, we have been able continue funding for such special projects as the McGill Institute for the Public Life of Arts and Ideas or the Integrated Program in Neuroscience, both great successes. We are also making room in our operating budget over the next three years to make our academics' salaries more competitive within the U15," he added.
"In essence, the hard conclusion is that, as a community, we will have to make some sacrifices so that we continue to be able to invest in McGill to keep it McGill."
To read the full budget presentation, go here.
The final update to Senate on budget matters will take place on April 23. It will be a presentation of the McGill University Budget Book for FY2015 which must be approved by the Board of Governors.