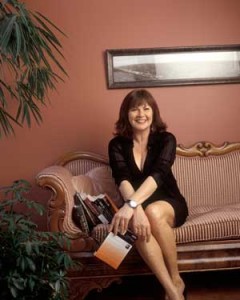 By Cynthia Lee
An unlikely duo will be celebrated at Fall Convocation on Nov. 14. Both are well-known, Canadian women, but that's where the similarities end. Mary Walsh, one of Canada's best-known comedic actors and Sheila Fraser, Auditor General of Canada will be receiving honorary degrees on the same day. Any bets on who will have the most one-liners?
Thanks in large part to her work on the Gomery Inquiry, Fraser is regarded by many Canadians as a straight-talking, no-nonsense, tough-minded woman who regularly takes governments to task in her fearless, far-reaching probes, while Walsh is best known for her edgy skewering of political leaders on the CBC favourite This Hour has 22 Minutes. Maybe the two share more in common after all.
Princess Warrior, PhD
If you haven't heard of Marg Delahunty or Marg, Princess Warrior, you probably don't own a television. They are but two of the many outrageous characters brought to life by Mary Walsh.
Early in her career, Walsh founded the Newfoundland Travelling Theatre Company, a troupe of young actors that later became known as CODCO. After years of successful touring, Walsh went on to help create This Hour Has 22 Minutes, a television show for the CBC. A satirical take on current affairs, it continues to be a big hit. Since its 1993 debut, the show has won numerous Gemini and Canadian Comedy awards. And despite her busy film and television schedule, Walsh continues to support charitable organizations all across Canada. Mary Walsh will receive a Doctor of Letters, honoris causa, on Friday, Nov. 14, 10 a.m.
Fraser returns to McGill
Dundee, Quebec native Sheila Fraser is best known for her scathing report on the sponsorship scandal that rocked the Canadian political scene in 2006. The first woman to be appointed Auditor General of Canada, Fraser's job is all about checks and balances on a grand scale on behalf all Canadians.
A McGill graduate, Fraser earned a Bachelor of Commerce degree in 1972 and began her career as a Chartered Accountant in 1974. For her service to the auditing and accounting professions, Fraser was awarded the Prix Émérite 1993 and the designation "Fellow" by the Ordre des comptables agréés du Québec in 1994 and by the Institute of Chartered Accountants of Ontario in 2000. She received the Governor General's medal commemorating Canada's 125th anniversary in 1992. In 2006, she was recognized with the Faculty of Management Achievement Award from McGill. Sheila Fraser will be receiving a Doctor of Laws,
honoris causa on Friday, Nov. 14, 2:30 p.m.
Meanwhile, McGill awarded an honorary degree on October 5 to Dr. Alim-Louis Benabid at the opening event of Les Entretiens du Centre Jacques-Cartier. A gathering of French and Quebec academics, scientists and artists held every four years in Montreal, the ceremony brought together for the first time all seven university-level institutions in Montreal. Each honored a personality from the Rhône-Alpes region, where the Entretiens originate. McGill's recipient, Dr Alim-Louis Benabid, is a renowned neurosurgeon who has focused his research on pathologies such as brain tumors and abnormal movements, such as those characteristic of Parkinson's disease. Dr. Benabid is Emeritus Professor of Biophysics at Grenoble's Université Joseph Fourier and honorary professor at London's Imperial College.