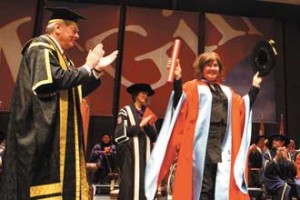 Canadian comic actor spares no one during address
By Neale McDevitt
Give Mary Walsh an inch and she'll take it – and more. And, as fans of the iconic Canadian political satirist know, let this woman near a microphone and she'll take no prisoners.
On Nov. 14, Walsh and Sheila Fraser, Canada's Auditor-General, received honorary degrees as part of Fall Convocation, with Walsh delivering one of the most memorable Convocation addresses in recent years.
Lamenting the fact that for most of her professional life she has played "an endless series of big, loud, opinionated old bags," Walsh told the audience she came to the sudden realization that she has morphed into an amalgamation of those characters. "My volume control button drifted up on Deafen a few years ago and my internal thermostat is eternally stuck on Cremate. I'm hot and loud – more like a Caribbean carnival, really, than an actual human being."
After taking shots at Sarah Palin ("I've seen brighter lights on small appliances") and Stephen Harper ("Does PM stand for Prime Minister or Puppet Master?"), Walsh closed by imploring women in the audience to fight gender inequality. The time is ripe, she said "to rise up with our mothers and our daughters and our sisters out of the… pink ghetto and triumphantly break through that seemingly impermeable glass ceiling and finally take our place as equal partners."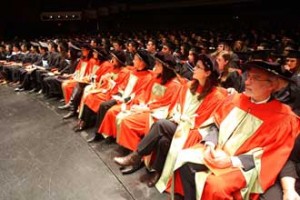 In the afternoon ceremony, Canada's Auditor General, and McGill Class of '72 grad, Sheila Fraser didn't garner as many laughs, but she did have some powerful words of advice.
"Even if your heart is set on a certain direction you should expect a few twists and turns along the way and I encourage you to embrace the unexpected," she said, pointing to her own experience as a farm girl from Dundee, Quebec who came to McGill to study math, switched to commerce and ended up as one of the nation's most influential people. "The twists and turns didn't take me off course – they were an integral part of the journey."
Herself a fearless advocate of truth and integrity, Fraser advised the Class of 2008 to "muster your courage and stand up for what you believe is right even when you know it could make you the target of a good dollop of criticism."
But Fraser reminded the audience that the most important thing to remember with regard to one's professional life is that "work has to have more meaning than a paycheck every two weeks. Look for ways to tie what you do to a higher purpose, one  that will inspire and motivate you.
"If you approach each day with the goal of remaining positive and determined, learning all you can, doing your best, holding fast to your values and believing in your own unique gifts, you won't have to look for success. You will already be successful."