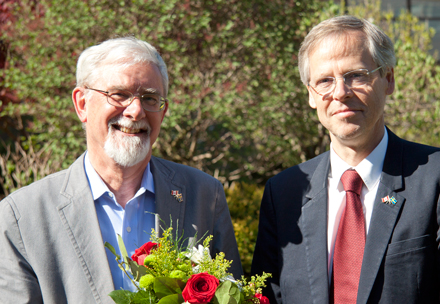 Pioneering study of nanocrystalline cellulose cited
By McGill Reporter staff
Derek Gray, Professor Emeritus in McGill's Department of Chemistry, has been named the winner of the 2013 Marcus Wallenberg Prize, awarded by Sweden's Marcus Wallenberg Foundation for scientific achievements that contribute to knowledge in fields of importance to the forest industry.
The announcement, citing Prof. Gray's pioneering study of nanocrystalline cellulose (NCC), was made by the Executive Secretary of the Wallenberg Foundation on May 14 at the opening session of the first FIBRE (Forest Innovation by Research & Education) Network conference, held in Cornwall, Ont. The Wallenberg Prize includes an amount of 2 million Swedish krona (roughly C$305,000).
Through his research, Prof. Gray has shown that cellulose crystals in water suspensions align spontaneously in a specific pattern, in turn creating unique optical properties, the Foundation noted. "Like the iridescent wing sheaths of a beetle, films of these aligned cellulose crystals can change colour depending on the angle from which they are viewed. This discovery has extended the boundaries of the uses of forest raw material and in so doing has created the potential for a series of new products in the forest industry. Gray's research has inspired researchers throughout the world to intensify their studies of nanocellulose and its possible applications. Research into NCC will pave the way for brand new business opportunities for the forest-based industry, separately or in partnership with other sectors."
Just a few months ago, Gray won a 2012 Synergy Award for Innovation from the Natural Sciences and Engineering Research Council of Canada for his role in a university-private sector partnership that led to a commercial demonstration plant opening in Windsor, Quebec, in January 2012.
In a phone interview from Cornwall, where he is attending the FIBRE conference, Prof. Gray said he was surprised and delighted to learn that he has been awarded the Wallenberg Prize. "It's wonderful to see something moving from the chemistry lab all the way up to a pilot plant and hopefully to commercial use," Gray told The McGill Reporter.
In its announcement, the Wallenberg Foundation noted that Gray discovered that NCC can form stable crystalline phases in water when present in sufficiently high concentrations. By forming solid films of these crystalline cellulose suspensions, it is possible to produce films with unique optical properties in wavelengths representing visible light. These ordered structures can be modified and controlled to create fascinating and unique properties, including polarizing mirrors, lasers and optical security systems incorporating pigments or thin films that show different colours depending on the angle from which they are viewed. Such properties are already found in nature, for example in the iridescent wing sheaths of many beetles.
Gray's research has opened up opportunities to use wood-based cellulose in a whole series of new, value-creating applications. For example, nanocellulose has a very high specific surface area. This makes the material highly attractive as a raw material for various types of porous material, as well as for nanofibre-reinforcement of various types of composite material through surface modification by nanocellulose. Other possible uses may be identified in a range of product areas; these include application of films in "intelligent" packaging materials, printed electronic circuits on paper, surfacing and filler materials that create possibilities for brand-new characteristics for paper and paperboard, new high-technology composites for the construction industry, components for the automotive and aviation industries, new materials for reinforcement or repair of the skeleton, additives for paint, pigments, inks and cosmetics and iridescent or magnetic films.
"The list of possible applications is seemingly only limited by the imagination," the Foundation said in its announcement. "This has inspired researchers throughout the world to intensify their studies of nanocellulose and its possible applications. Research into NCC will clear the way for completely new business opportunities for the forest-based industry, separately or in partnership with other sectors of industry."
Discovery originated in part from basic findings by others at McGill
Cellulose consists of both crystalline and amorphous elements. The amorphous elements can be removed via several types of chemical reaction, such as hydrolysis. The process results in the release of nanocrystalline cellulose (NCC). NCC consists of rigid, needle-like cellulose crystals, measuring 3-10 nm across and 100-300 nm in length. Gray's discovery originates from basic research findings reported in 1951 by Bengt Rånby at Uppsala University and in 1959 by Robert Marchessault and others at McGill.
In 1992, Gray and his late colleague Jean-Francois Revol resumed work on extracting NCC from wood. The basic findings of their work were published and patented between 1992 and 1997, inspiring intensive research into other possible applications of nanocellulose. Since 2003-2004, in particular, this has led to an explosion of publications by various research teams around the world.
Gray was born in 1941 and studied chemistry at Queen's University, Belfast, Northern Ireland, graduating in 1963. In 1968, he gained a doctorate in polymer chemistry at the University of Manitoba. He continued his research between 1968 and 1971, first at the University of Newcastle-upon-Tyne, England, and then at the University of Toronto.
From 1974, he was employed at McGill, first as research assistant and then, between 1990 and 2004 held the position of Paprican Adjunct Professor. Between 2004 and 2011, he held the Paprican/NSERC IRC professorship in the properties and applications of cellulose in the Department of Chemistry. He was appointed Emeritus Professor in 2011 but remains very active in research. Prof. Gray has authored or co-authored 201 scientific articles, patents, and chapters in books, and is a highly popular speaker at conferences all over the world.
The Marcus Wallenberg Prize is awarded to recognize, encourage and stimulate pathbreaking scientific achievements that contribute to broadening knowledge and to technical development within the fields of importance to forestry and forest industries.
Prize ceremony and symposium to be held in September
This year's prize will be awarded by His Majesty the King of Sweden at a ceremony to be held in Stockholm on Sept. 23. A symposium on the award-winning theme and its importance to the forest industry and society will take place on Sept. 24.