By McGill Reporter Staff
McGill's Vice-Principal (Communications and External Relations), Olivier Marcil has accepted a senior position in the private sector. His last day at the University will be September 30, 2016.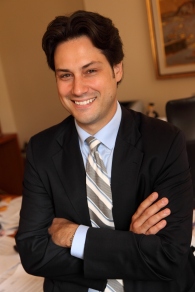 Marcil joined McGill in July 2011, having served as Chief of Staff to Clément Gignac, Quebec's Minister of Economic Development. Marcil's extensive government experience included three years as an advisor to Premier Jean Charest and four years as Chief of Staff to Benoît Pelletier, Quebec's former Minister of Canadian Intergovernmental Affairs, Aboriginal Affairs and Democratic Institutional Reform.
During his five-plus years as V-P, Marcil focused on enhancing the University's dialogue with all levels of government, especially the Quebec government. He ramped up efforts to bring government officials to campus, whether to tour research centers, attend concerts or get a first-hand look at McGill's pressing infrastructure needs.
Marcil has been an active board member for several local non-profit organizations, including Canal Savoir, Acfas, Centre de la Nature Mont St-Hilaire and Youth Fusion. He is a director of the Fondation Serge-Marcil, which helps disadvantaged children in Haïti and Senegal.
"Accepting this opportunity [in the private sector] proved an extremely difficult decision to make," Marcil said in a message to his staff announcing the next chapter in his career. "I will leave McGill with sadness because I have very much enjoyed working here. I have enjoyed the challenges and the people at McGill…. Your creativity and can-do attitude, often in the face of resource and logistical challenges, have been an inspiration for me over the course of the last five years."
Principal Fortier has instructed Secretary-General Edyta Rogowska to strike an Advisory Committee for the selection of a new Vice-Principal (Communications and External Relations). Information regarding the nomination and application processes, as well as opportunities for input from the community, will be forthcoming.
Effective October 1, 2016, Marc Weinstein, Vice-Principal (University Advancement), will serve as Interim Vice-Principal (Communications and External Relations).