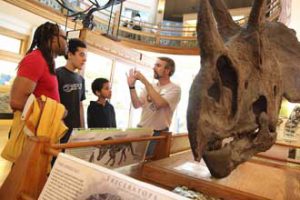 By Cynthia Lee
The essence of life, Aristotle once said, is to serve others and to do good. The ancient Greek philosopher, it seems, was an early proponent of volunteerism.
McGill's Redpath Museum is blessed to have many dedicated volunteers, people who give of their time for the benefit of others in a variety of ways.
Bruno Paul Stenson is one of them. Every Sunday, you can find him in the Museum's dinosaur gallery, passing his love of science on to visitors.
"I enjoy demystifying evolution, fossils, and dinosaurs," said Stenson, a historian and musicologist who goes by the alias Dinoman while on duty. "My professional training has helped develop my skills to interpret the communications of a scientist to the ear of the layperson."
Stenson began volunteering at the Redpath in 2007 when he joined the Friends of the Redpath Museum council. At first he couldn't see what his role would be, but when Sara, the teenage triceratops discovered by Prof. Hans Larsson, was unveiled, Stenson was asked to stand next to the 65 million-year-old skull and introduce her to her admirers. After doing that for one Sunday, he enjoyed the experience so thoroughly he's returned every week since.
"I don't look at my afternoons as volunteering or work," he said. "I just see it as something I really enjoy."
Emily Bamforth, a second-year PhD student in Paleontology and a member of the Redpath Museum Club (an SSMU club), is another Redpath Volunteer. "Volunteering at the Redpath Museum is fantastic," she said.
Bamforth puts in approximately 10 hours a month at the Museum, doing interpretations for school programs and acting as a tour guide in the galleries. But like Stenson, she doesn't consider her volunteering a "job" or work. It's something she enjoys and makes time for.
"The thing I love most is interacting with students and people who visit the Redpath and sharing my passion for vertebrate paleontology," she said.
The highlight of Bamforth's work with the Redpath so far was a visit she and another club member made to an elementary school in St. Lazare last year.
"We brought fossils and models and showed them to a class of five- and six-year-olds. It was a thrill to see the kids so animated," she said.
The Redpath's Ingrid Birker works with volunteers as part of her duties as Science Outreach Co-ordinator.
"Volunteers are an indispensable part of our community here. They add a very personal dimension to the museum and their appreciation for natural history shows – it'd be a very static place without them," said Birker.
The Redpath's volunteer core ranges from students to people of working age and retirees, like those who come on Sundays to work the registration desk. There are 55 of them in all, the youngest being a 14-year-old boy who has been donating his Sunday afternoons to Sunday Family Discovery Workshops since he was 10.
"He comes in every very Sunday and assists with the families and helps organize events like our crafts," Birker said. "He just loves it.
"I have to say that the single most remarkable thing about volunteers is that they tend to think beyond themselves," Birker said. "They can often predict and anticipate where they will be needed before you even know it. I know it's enriching to volunteer, but to work with volunteers is enriching in itself."