Gül Kale, a visiting scholar at the Institute of Islamic Studies, is one of 10 recipients of the new Getty/ American Council of Learned Societies (ACLS) Postdoctoral Fellowships in the History of Art.
Each 12-month fellowship includes a $60,000 stipend and an additional $5,000 for travel and research. Awardees will convene at the Getty Foundation for a week-long residency upon completion of their fellowships, creating a community of scholars connected to one another. The fellowships encourage projects that make substantial and original contributions to the understanding of art and its history, an endeavor that now includes both technical and digital art history.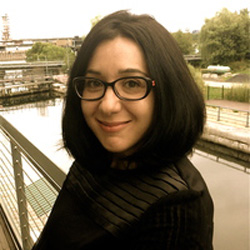 Kale, who holds a PhD from McGill's Architectural History and Theory Program (2014), is an affiliated fellow at the Forum Transregionale Studien, Berlin. The Getty/ACLS Fellowship will support Kale's work titled Unfolding Text, Image, and Artifact: Theory, Poetics, and Ethics in Cafer Efendi's Seventeenth-Century Book on Ottoman Architecture. The book-length project is the first sustained and critical analysis of A Book on Architecture, the scholar Cafer Efendi's book about Ottoman architecture and the life of Mehmed Agha, the chief architect of the Sultanahmet Mosque in Istanbul in 1617.
"We believe that research support is essential to maintain art history as a strong and vital discipline in the humanities," said Deborah Marrow, director of the Getty Foundation. "The Getty Foundation's partnership with ACLS is an opportunity to provide promising scholars the time and space they need to write, travel, and interact with collections and peers. We hope these fellows will become future leaders in art history."
The Postdoctoral Fellowships were a flagship Getty Foundation program for 25 years. From 1984 to 2009, over 350 fellowships were awarded to scholars at the beginning of their careers. The program focused on broadening the definition of the visual arts and strengthening the connection between art history and other humanistic disciplines.
The new program allows for more cross-disciplinary research, new modes of interpretation, and projects that have an impact on the broader field of art history beyond the recipient's specific sub-fields.
"This year's awardees exemplify the new fellowship program's commitment to advancing innovative research that not only broadens the understanding of art and its history, but enriches humanistic knowledge around the world," said Pauline Yu, president of ACLS. "We look forward to another amazing and global pool of applicants next year."