In Montreal at the end of August, we typically see thousands of students in brightly-coloured T-shirts participating in their annual Frosh activities. For first-year students and upper-year students alike, Frosh is a fun and meaningful experience—a wonderful opportunity to make connections, build community, and take part in social events. This year, however, the COVID-19 pandemic has challenged the Frosh Community to rethink their usual in-person events and come up with creative solutions that still offer students a welcoming and engaging experience.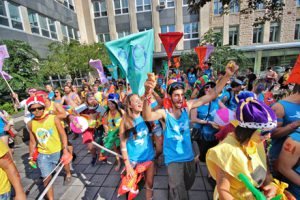 A virtual Frosh
The Frosh Coordinators, a group of about 80 upper-year students who spend several months every year preparing for Frosh, were unanimous in their decision to deliver Frosh remotely. They are dedicated to providing a safe, equitable, and inclusive Frosh experience and this year was no exception. The Coordinators took the public health measures put in place by the provincial and federal governments very seriously. The Coordinators also recognized the importance of equity and inclusion when considering this year's events, wanting to ensure that international students could fully participate, even if they're not physically in the Montreal area when the semester begins. For the Coordinators, the choice was simple: in order to hold a safe, equitable, and inclusive Frosh, this year's activities would be conducted virtually.
Although transitioning to an online environment has been challenging, the Coordinators have been working hard to ensure a quality experience for students participating in Frosh. They replaced regular programming like Beach Day and campus tours with activities like a virtual scavenger hunt, a cooking show, painting, yoga and fitness classes, TikTok challenges, trivia nights, bingo, a virtual escape room, and Zoom-facilitated meet-n-greets. Frosh 2020 has been designed with students' realities in mind; the Coordinators have planned events and activities that will be meaningful and engaging in online environments. Despite this shift from in-person to virtual, the Coordinators' vision for Frosh has remained the same: provide first-year students with a safe, fun, and meaningful experience as they transition into university.
Making the most of the situation
The Coordinators see Frosh 2020 as an opportunity to emphasize the values that guide their work. In addition to safety, equity, and inclusion, the Coordinators believe strongly in the power of community. They see upper-year students as valuable resources who can enrich and facilitate first-year students' transition into university. To this end, the Coordinators worked hard to develop online activities that allow first-year students and upper-year students to make meaningful connections and learn from one another. The Coordinators also wanted to create opportunities for first-year students to connect with their peers in the incoming class—fellow students who, this year, are challenged with starting university virtually. Since Frosh helps serve as an introduction to McGill, Frosh 2020 aims to facilitate first-year students' transition by providing the students with opportunities to meet classmates and make friends in preparation for the online fall semester. Frosh 2020 will help first-year students get acquainted with others who are going through the same experiences as them, help them feel connected to McGill, and facilitate a sense of community.
Giving first-year students a leg up
With that in mind, the Coordinators feel a particular responsibility to help the first-year students be extra prepared for what life will be like at McGill in Fall 2020. For example, every Frosh offered by a faculty association or departmental association includes activities geared towards academics. The Coordinators have specifically emphasized academics in their programming to encourage the scholarly success of first-year students and provide them with opportunities to ask questions and receive information from upper-year students in their faculty or department. This means that first-year students will learn about campus resources, educational supports, and tips for academic success. Additionally, with many Frosh events being held via Zoom, the Coordinators hope that their activities will get the students ready for their fall semester courses—many of which will also be held on Zoom. All Frosh participants, including first-year students and upper-year students, are required to complete training modules hosted on myCourses, including one module specifically about COVID-19, safety measures, testing procedures, and the resources available to students at McGill. By requiring first-year students to complete this training on myCourses, the Coordinators aim for these new students to practice using the University's learning management system while gaining important information about the Frosh Community, McGill, and COVID-19.
As with previous years, Frosh 2020 is an important and valuable opportunity for first-year students to connect with peers and upper-year students, develop a sense of community, and prepare for the fall semester. And, yet again, the Coordinators have demonstrated their dedication to the McGill community by working hard to create and provide events that are safe, equitable, and inclusive as well as fun and engaging. Despite the numerous challenges that have come from the COVID-19 pandemic, the Coordinators have turned obstacles into opportunities and produced a Frosh that promises to be as meaningful of an experience for first-year students as ever.
For more information about Virtual Frosh and Orientation Week, please visit: www.mcgill.ca/firstyear/undergraduate/orientation-week/fall