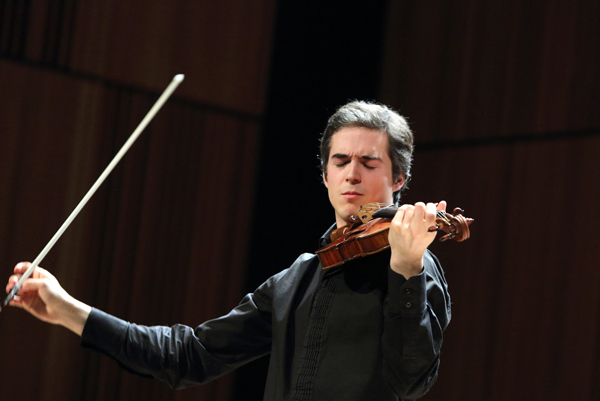 By Neale McDevitt
Organizers of the eighth annual Golden Violin Competition added an exciting new wrinkle to this year's proceedings by having the four finalists perform in a decisive public recital on March 15, in order to determine the winner.
When the applause had died down in Tanna Schulich Hall, Jury chair Prof. Douglas McNabney announced Victor Fournelle-Blain as winner of the $25,000 prize – the largest of its kind for a music student in Canada.
"Knowing we were being judged on that performance made it exciting," said Fournelle-Blain, in the first year of his Artist Diploma. "But I've played in other competitions before so it was not overly stressful.
"It's quite an honour to win such a prestigious prize," he added, "especially since the other finalists [Ryan Davis, viola; Marjolaine Lambert, violin; and Byungchan Lee, violin] were so strong."
Fournelle-Blain's first foray into music was less than a resounding success. Introduced to the piano as a five year old, the native of Sainte-Julienne, Que., was not exactly the ideal student. "My mother was a piano teacher, so she tried to teach me. But that didn't work," says Fournelle-Blain. "Something about taking lessons from my mother – I didn't listen very well."
Instead, his mother waited several years before trying again, this time giving eight-year-old Victor his first violin. "I liked it right away," said Fournelle-Blain. "I think it had a lot to do with the fact that I didn't take formal lessons right away. I had a violin on loan to me for the entire summer and I was free to explore the possibilities all by myself. It was really fun."
Having fun has made it easy for Fournelle-Blain to dedicate himself to his instrument. Today, he plays every single day, upwards of 5-6 hours when he's preparing for a concert of a competition. "I like the outdoors, so I ride my bike a lot in the summer and I enjoy snowshoeing in the winter," said Fournelle-Blain when asked what he does outside of music. "But I have to admit that I also practice my violin and viola during my free time. A lot."
For Fournelle-Blain, putting in the big hours is just par for the course, especially because he's working on being a soloist while also playing chamber music. "Of course, I like playing solo, but I also really enjoy chamber music – in the best conditions," said Fournelle-Blain. "It's less enjoyable when the group isn't very solid, but even with strong musicians, the communication can be very trying.
"But when everything is clicking, it really is paradise," he says.
While he's still weighing career options, Fournelle-Blain would love to earn his living as a soloist or in a chamber music ensemble. "Right now I have to establish more contacts, maybe get a manager and try to play more concerts," says Fournelle-Blain. "The ultimate goal is to reach the highest spheres of music but that is a very difficult thing to do. Winning the Golden Violin is a step in that direction."
Victor Fournelle-Blain's Golden Violin Debut Recital will take place on May 13, at 7:30 p.m. in Tanna Schulich Hall (555 Sherbrooke Street West). Admission is free. For more information, go here.