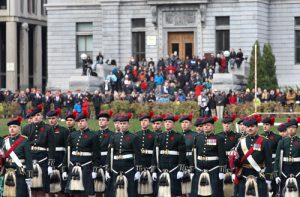 By McGill Reporter Staff
Hundreds of spectators lined the lower field Sunday to join in the marking of Remembrance Day by veterans, military regiments and a number of dignitaries.
Braving chilly November weather, and startled by the roar of cannonfire that rang out a 21-gun salute from the Y intersection, the spectators heard the skirl of pipes and drums, as well as a military brass band.
From the stirring melancholy of The Last Post, to the two minutes of silence, to the solemn laying of wreaths, the ceremony followed familiar themes of remembering those who have fallen in conflicts around the world on behalf of their fellow citizens.
Prayers were said, as well as The Act of Remembrance:
They shall grow not old, as we that are left grow old,
Age shall not weary them, nor the years condemn.
At the going down of the sun and in the morning,
We will remember them.
Principal Heather Munroe-Blum and Vice-Principal (Administration and Finance) Michael Di Grappa laid a wreath on behalf of the University. Quebec's Lieutenant-Governor, Pierre Duschesne, led the wreath-laying, followed by representatives of the federal, provincial and municipal governments and four Montreal MPs: Marc Garneau (Westmount Ville-Marie), Marjolaine Boutin-Sweet (Hochelaga), Justin Trudeau (Papineau) and Tyrone Benskin (Jeanne Le Ber). Other wreaths were laid by representatives of various branches of the military and police forces.
Two military helicopters flew low over the downtown campus, each splitting off over the Arts building to arc around and fly back in the southerly direction from which they came.
This year, a replica of a cenotaph was erected on the lower field, in place of the thin, white wooden cross that has been used in recent ceremonies. The main Montreal Remembrance Day ceremonies moved to McGill's lower field three years ago, with the usual venue – Place du Canada, on René Lévesque Blvd – was undergoing renovation. The size and openness of the field appealed to the Royal Canadian Legion, which organizes the ceremonies, and it asked if McGill could become the permanent venue.
Following the ceremonies, and under a brightening sky, the regiments participating in the event marched briskly down McGill College Ave. before turning east on Ste. Catherine St. to Phillips Square, where the event came to an official end.
Until next year.