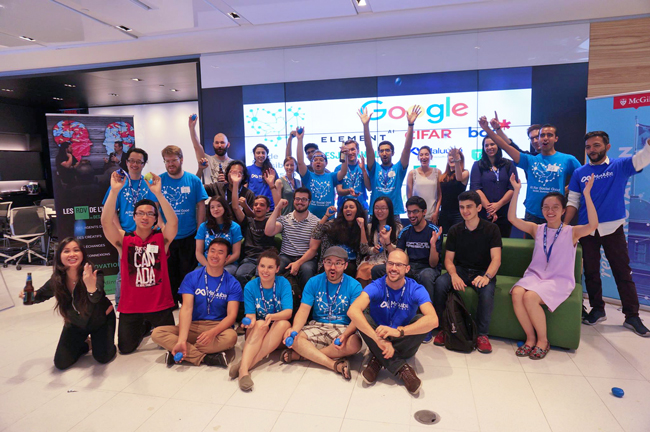 By McGill Reporter Staff
Recently, McGill's Office of Innovation asked bright, creative minds to make something that helps all of us live a little bit better in the first-ever AI4good Hackathon.
In all, some 80 people took part in the event, which ran from 10 a.m. on Saturday, June 17, to 4 p.m. on Sunday, June 18.  About a dozen participants pulled all-nighters, and most stayed until the wee hours, pouring over their computers and collaborating on their projects using AI to help people.
The AI for Social Good Hackathon was part of the inaugural McGill AI For Social Good Summer Lab for Women.
Angélique Manella, McGill's Associate Vice-Principal of Innovation and organizer of the event explains how the hackathon unfolded. "The hackers used open data sets from the City to solve a problem. AI requires big data sets to allow for patterns to emerge, and we are grateful to the City for this new collaboration and access to this data," says Manella. "We are hoping that new networks and links will be made between participants, instructors and institutions to further strengthen the already burgeoning start up AI eco system here in Montreal, and open things up for women."
A "hackathon" is a design sprint-like event. A group of people who often don't even know each other get together to do collaborative computer programming over a day or more. The result could be a web site, an app, an algorithm, or even a robot.
The McGill Hackathon brought together people from a broad range of disciplines to tackle some real social issues, in a fun environment. It was sponsored by Google, Element AI, BDC Capital, Desjardins Lab, CIFAR, Maluuba, Freshii, as well as Real Ventures. It was also partnered with Shopify, Dialogue, Tandem Launch, Botler, Enigma, and the City of Montreal.
"The Hackathon was refreshing, pioneering, inspiring and fun," says Demitasse Huang, Social Media Lead for the AI Summer Lab. "Our hackers came up with new ideas, taking on social challenges. We provided the City of Montreal 311 Information line dataset, but the participants were also encouraged to use other data sets. Participants got opportunities to build their networks with professionals from many tech companies and institutions, and they also learned from other fellow participants."
The prize winners covered an impressive range issues and showed what is possible using Artificial Intelligence.
Inclusivity Award winners: Team 331 AI
Description: Data analysis and predictive analytics from Montreal's Emergency phone line 311 data including a 311 Chatbot for citizens of Montreal;
Remi Dion, Jules Lambert, Alex Keenan, Erin Birkwood, Sasha Gnatenko, DongQiao Yang, & Vincent Salamanca-Gagnon
Google Lunch winners:  Breast Cancer Answer
Description: Designing a Python prototype and a landing page under the critical deadline;
Vanessa Jones, Charlotte Borgognogni, & Mahdis Asaadi
Maluuba Lunch winners: Team Let's Talk
Description: Developing a practical tool using voice recognition to detect early stage language impairment in children;
Abhishek Gupta, Andi Rayhan, Arun Rawlani, Abhiijay Gupta, Elsa Riachi, & Gabriela Moisescu
Element AI Lunch winners: Team BixAID 
Description: Improving the Bixi biking experience by data analysis;
Johanna Hansen, Juliette Lavoie, Julie Tseng, Elisa Ferreira, Jasmine Wang, David Yang, & Sameer Sardaar
Dialogue Lunch winners: Team Purposly
Description: Creating a more meaningful calendar/schedule;
Jad Feghali, Taras Kubrak, Karim Lahrichi, Julia Lo, & Vyom Sharma
Special Honor to Team ISISDetect
Description: Designing a tool to stop terrorist propaganda on social media by analyzing people's online posts.
(Names not know since participants did submit the list)