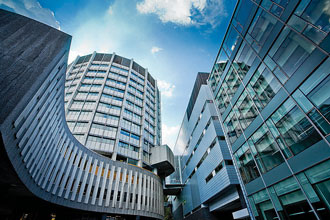 On Aug. 2, 2016, Dr. David Eidelman, Vice-Principal (Health Affairs) and Dean of the Faculty of Medicine, sent his latest update about the faculty's progress on its Undergraduate Medical Education accreditation. (His previous update, from April 2016, is here). Here is Dean Eidelman's message to faculty, students and alumni:
[La version française suit]
Dear students, colleagues and alumni,
We are making solid progress with the implementation of our Undergraduate Medical Education (UGME) accreditation initiatives. Thanks to the commitment of the faculty members, staff and students who are involved, we have successfully addressed many of the issues. Other improvements that take more time are also advancing very well.
I am pleased to share some of the most recent steps we have taken:
We are acquiring a new and highly regarded curriculum management system, called Entrada™. This software will enable us to more effectively map objectives to course content, monitor comparability between sites, track student assessments, and continuously measure and improve the MDCM program's performance. Overall, it will help us to better manage the curriculum in both English and French and address a number of accreditation issues. Rollout of Entrada begins this fall and will continue throughout the year.
We established the Steering Committee for our Faculty Council, and two Faculty Council meetings have been held this year. Additional sub-committees are being considered to continue reinforcing the Faculty's governance. Faculty Council presentations and minutes are posted online.
We administered our new Medical Education Experience (MEE) Survey for Med-2 and -3 students to capture information about the student experience. Analysis of the data is in progress.
The students' wellness office – renamed The WELL Office – continues to increase in robustness, with the hiring of additional staff and other improvements to better meet the needs of students.
While all new residents attend orientation sessions, online "residents-as-teachers" training on MDCM program objectives is now mandatory, targeting another accreditation issue.
More details about the improvements underway are available online.
I am pleased with our progress and know we are taking the right steps, systematically addressing every issue. While we cannot predict the outcome of our next UGME accreditation visit in 2017, our UGME leaders and teams continue to raise the bar and innovate based on best practices in education. I am confident that our MDCM program will be stronger than ever. Most importantly, I have no doubt that the quality of our medical school graduates will continue to be outstanding.
Thank you, sincerely, for your ongoing engagement and support.
David Eidelman, MDCM
Vice-Principal (Health Affairs)
Dean of the Faculty of Medicine
*CACMS/LCME refers to the Committee on the Accreditation of Canadian Medical Schools and the U.S. Liaison Committee on Medical Education.
—-
Chers étudiants, collègues et diplômés de la Faculté de médecine
La mise en œuvre des initiatives pour l'agrément du programme d'études médicales de premier cycle est en bonne voie. Forts de la contribution des membres du corps professoral, du personnel et du corps étudiant, nous avons résolu nombre des points soulevés. Par ailleurs, d'autres améliorations qui nécessitent plus de temps évoluent très bien.
Voici certaines des récentes mesures que nous avons prises :
Nous procédons à l'acquisition d'un nouveau logiciel très bien coté de gestion de cursus, appelé EntradaMC. Grâce à cet outil, nous pourrons mieux mettre en correspondance les objectifs et le contenu des cours, surveiller la comparabilité entre les sites, assurer le suivi des évaluations des étudiants, ainsi que mesurer et améliorer en continu la performance du programme de MDCM. Dans l'ensemble, le logiciel permettra de mieux gérer le cursus en anglais et en français, et de régler plusieurs problèmes soulevés lors de l'agrément. La mise en œuvre d'Entrada commencera cet automne et se poursuivra durant l'année.
Nous avons constitué le Comité directeur du Conseil de la Faculté, et deux réunions du Conseil ont eu lieu cette année. Nous envisageons d'autres sous-comités pour continuer à consolider la gouvernance facultaire. Les présentations et procès-verbaux du Conseil de la Faculté sont accessibles en ligne.
Nous avons mené le nouveau Sondage sur l'expérience d'apprentissage en médecine à l'intention des étudiants de 2e et 3e année. L'analyse des données est en cours.
Le bureau de mieux-être des étudiants – renommé Bureau SOURCES – continue aussi de gagner en robustesse, avec l'embauche de personnel supplémentaire et d'autres améliorations visant à mieux répondre aux besoins des étudiants.
En plus des séances d'orientation auxquelles assistent tous les nouveaux résidents, une formation en ligne destinée aux « résidents-formateurs » sur les objectifs du programme de MDCM est désormais obligatoire, en réponse à un autre point soulevé lors de l'agrément.
De plus amples renseignements sur les améliorations en cours sont accessibles en ligne.
Je me réjouis de nos progrès et je sais que nous prenons les bonnes mesures, abordant chaque problème de façon systématique. Bien qu'il soit impossible de prédire l'issue de la prochaine visite officielle d'agrément de notre programme d'études médicales de premier cycle en 2017, les dirigeants et les équipes du programme continuent de hausser la barre et d'innover selon les meilleures pratiques en éducation. Notre programme de MDCM sera plus solide que jamais. Par-dessus tout, je n'ai aucun doute que la qualité de nos diplômés en médecine demeurera exceptionnelle.
Je vous remercie de la constance de votre engagement et de votre soutien.
David Eidelman, MDCM
Vice-principal (Santé et affaires médicales)
Doyen de la Faculté de médecine
* CACMS/LCME : Comité d'agrément des facultés de médecine du Canada et Liaison Committee on Medical Education des États-Unis.