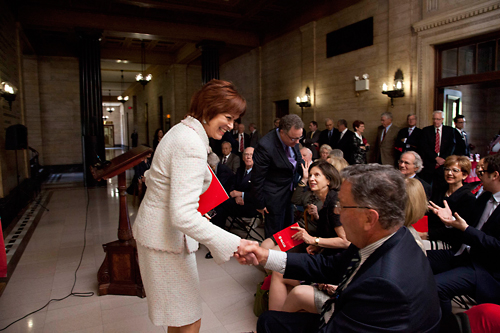 By Neale McDevitt
It is as much a tribute to visionary generosity as it is to the 158 individuals and organizations that have their name etched upon it.
The James McGill Circle, nine glass panels along the Leacock concourse inscribed with the names of every benefactor, foundation and organization that has donated $1 million or more to the University, was officially unveiled yesterday afternoon.
"I don't think that there is anyone here who doesn't believe that having universities that perform at the highest level, publically purposed, aren't amongst the most powerful and important institutions in society today," Principal Heather Munroe-Blum told the select group of benefactors – and inaugural members of the James McGill Circle gathered in the lobby of the Arts Building. "We take great pride in the role that McGill takes in this regard. And I want to thank you for being part of the cause."
During her introductory remarks, Munroe-Blum invoked the name of James McGill, reminding the audience how fitting it was that their names are inscribed on windows that overlook the former estate the University's original benefactor.
"On a day like today, as on many days during my time as Principal, I think about [James McGill's] extraordinary act of generosity," said Munroe-Blum. "The fact that a pioneer from Scotland in the 1700s… would come here before we had a country and say 'Education is so important that I'm going to leave my estate, my last will and testament, will be committed to creating a secular university that would build the country, support the growth of the city, and serve around the world.' And that's exactly what we have 192 years later.
"The legacy of James McGill is a powerful one," the Principal noted.
The event took place on the eve of the announcement of the final tally of Campaign McGill, the University's most ambitious fundraising campaign ever with a target of $750-million. That announcement will be made later Tuesday morning.
"It is hard to believe that it has been eight years since we launched [Campaign McGill]," said Munroe-Blum, "to which each and every one of you has contributed so generously and, along with that, offered your great friendship and support to McGill.
"I just want to say as we celebrate the Campaign and the University that your gifts of support and those that have come in broadly through the Campaign, support the enrichment and renewal of McGill's teaching and research infrastructure; the transformation of pedagogy and learning and the experience of our students at the undergraduate level as well as the graduate level and in our professional programs; our fellowships, scholarships and bursaries; enriching internships… for our students who come today from over 160 countries around the world."
The Principal then invited the group to make its way to the Leacock concourse. Once there, each member was presented with a commemorative pin. "You now belong to the James McGill Circle. It is a highly elite and distinguished group. Everybody who has this pin has contributed extraordinarily to the success of our University…"
Raising a glass, the Principal saluted the friends of McGill. "I toast you and through you toast generosity, support and friendship to our University going forward. To you, the James McGill Circle and to McGill University."