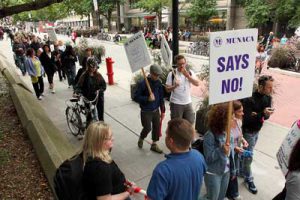 By McGill Reporter Staff
McGill employees continue to picket the University's downtown and Macdonald campuses as both sides in the labour dispute prepare to begin the process of conciliation.
The employees are members of the McGill University Non-Academic Certified Association (MUNACA), the union representing some 1,700 support staff, including lab technicians, IT technicians, clerical staff and library assistants. The strike began on Sept. 1, coinciding with the first day of classes.
The University and the union are at odds over issues such as salaries, benefits, pension, scheduling and shift premiums, job posting and selection of staff. The parties have been negotiating since November and both sides agreed last week to continue negotiating with the help of a conciliator appointed by the Quebec government.
Downtown, picketers have marched in front of a number of campus entrances, including the Roddick and Milton Gates, as well as on the intersection of McTavish and Sherbrooke Sts.
While there have been some service slowdowns, the University remains open and contingency plans are in place to allow classroom and research activities to continue with as little disruption as possible.