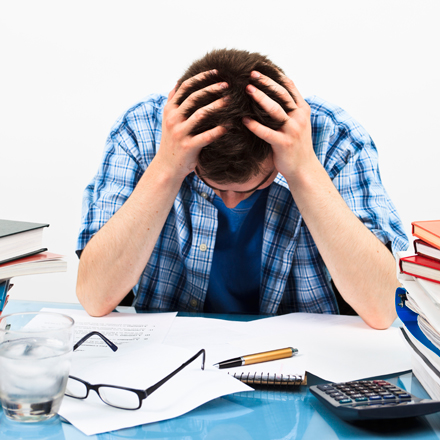 Number of students seeking help on the rise
By Jim Hynes
The final exams period is upon us, and the people providing mental health support to McGill students are about to come under heightened pressure themselves, as the number of requests for help grows with every passing April day.
Student mental health is a growing concern at universities across Canada and around the world. Not only during exam periods, and not only at McGill, which does a better job than most at caring for the mental health needs of its student body.
Here, students in distress can seek help from the professionals from three different Student Services units: Mental Health Services, Counselling Services, and the Office for Students with Disabilities (OSD) (see the sidebar, below), not to mention the counsel provided by others, like Health Services and Chaplaincy Services.
"I think McGill students are very lucky because in a way the have at least two doors to choose from, and they often self-select," said Dr. Vera Romano, Director of McGill's Counseling Service. "And it often has to do with their cultural milieu. For some people, when they are feeling down or are distressed, the first place they would go to talk about it is actually their general practitioner. And we have GPs at Health Services. For some, maybe they have had medication for emotional stuff in the past. A lot of students actually come here with a history of having taken psychotropic medications, so for them, maybe it's more natural for them to go and see a psychiatrist at Mental Health. For others, their mindset is more geared to counseling. They usually end up in the right place."
Contextual model
The Counseling Service, part of Counseling and Tutorial Services, offers counseling for psychological or socio-emotional issues and also deal with academic and vocational concerns. Most of the Service's work is dealing with students who are experiencing some level of personal or emotional distress, and the majority of the staff members are counseling psychologists and certified counselors, as well as one social worker.
In the 2012-13 school year so far, the Service has served more than 3,000 different students, putting in more than 10,000 counseling or therapy hours along the way. Most of those hours involved personal counseling, but the service also offers couples counseling.
"Our counseling model is what's known as the contextual model," Romano said. "We focus on the person's environment. And it's less pre-occupied with diagnosis and more concerned with positive psychology – resiliency-based treatments and therapy and counseling. A lot of the focus is on prevention, and looking at the suffering of whoever comes and not so much about one person being sick or diagnosed and another person is well. We look at it as continuums, that we all have to deal with things and our students come to us with a lot of different problems."
Full model of care
The Mental Health Service, meanwhile, is a 20-person team of mostly part-time psychiatrists, psychologists and therapists. Together, their time is equal to about 12 full-time staff. By early April, the Service had already held 17,600 appointments with roughly 3,200 individual students. They also had 1,200 emergency drop-in visits.
"We're one of only two universities in Canada that offer what we call a full model of care, excluding hospitalization obviously because we're a university," says Dr. Robert Franck, the Service's Director. "We offer crisis intervention, short-term therapies and, if necessary, long-term therapy, but the demand on the service is such that we tend to refer out somebody who needs long-term work. We also do consultations. There are many places that just have a consultant psychiatrist who comes in."
Students seeking help from the Mental Health Service can approach them in one of two ways. They can make an appointment over the phone or go to the front desk and make one. Students are generally students are seen within two weeks.
"The other way in is through our emergency drop-in, Franck said. "Let's say a student says, 'I can't wait two weeks, I have to be seen today.' They will be seen on the same day. It won't be a full assessment, but they'll be triaged. And then based on the severity of the condition either be given an immediate follow-up or put on the list for being picked up by one of our psychologists for therapy."
Continuity of service is key
Students typically enter Counseling Services through intake assessment, a first-come, first-served type of triage that takes place between 12 noon and 4 p.m. every day.
"There are only two goals to the assessment process," Romano said. "It's not a diagnostic assessment, it's 'what brings you here today' or 'what is bothering you', and more importantly, 'how can we help you?' Sometimes the answer to the latter is actually a referral to another service. Sometimes it's Mental Health. If a person is talking about responses to a medication, or seems somehow to have difficulty with reality, maybe a history of psychosis-related things, then we likely refer them to our colleagues. One of the great things about the system here is that we have a very serious and committed approach to continuity of service. If there is an acute danger of some kind, then you have to involve the medical system. It could be the hospital, or it could be Mental Health."
Both Romano and Franck see the different doors open to students at McGill as one of the strengths of the system here. While some may be concerned that too many choices may confuse those who need to seek help, they say that providing options instead of insisting on a single portal avoids alienating those who may uncomfortable with it.
"If you just do one door, one modality, you're going to lose people who are not open to what you are presenting," Romano said.
Franck concurs, calling the approach employed at McGill "not necessarily efficient, but certainly effective."
"What I mean by that is that there are so many different units within it, and we all collaborate. The student can access care at the level of their comfort. So somebody might go to Chaplaincy, and in working with the Chaplain, may suddenly reveal something about their story – a history of sexual abuse for example, and then the Chaplain might steer them in a direction where they can get the best and most efficient and effective care for it.
"This is what I meant about being effective," he said. "If you become more efficient, you drastically reduce the number of opportunities or portals that students can access to get that help. Yes, you are more efficient, you may be saving money, but you'll be missing out on a lot of kids. So I think you need that kind of choice."
Sharp increase in students needing help
Statistics show the approach is working, maybe too well in fact.
At the McGill Senate meeting of March 20, in response to a question from a student Senator that suggested the Services were "… unable to meet the demand" for mental health and counseling services "as swiftly and effectively as required," Morton Mendelson, Deputy Provost (Student Life and Learning), revealed that the Services had seen a 25-per-cent increase in the number of students presenting themselves at their doors, as well as a 20-per-cent increase in emergency drop-in visits over previous years.
And then there's the final exam period. Last year, the Mental Health Service had 25 emergency walks-ins in the first week of April, followed by 40 the second week, 84 the third week and 102 the last week.
The vast majority of those visits were made by students wanting a note to defer an exam, a complex, even controversial issue in its own right.
"That's more than 20 students a day in addition to the people we're already seeing, so that's not sustainable," Franck said. "It puts an enormous strain on our being able to accommodate that."
The wait times caused by the growing demand is a cause of concern. Appointment books start filling quickly when students return to campus at summer's end, and an initial two-week wait in the fall can become a four or five-week delay by the time the holiday season rolls around. But no one is turned away, with both Mental Health and Counseling finding ways to provide immediate assistance to those in serious distress, one way or another.
Indeed, the Services today are faced with a curious conundrum. They need fewer people to reach out to them, so that they in turn can reach out to those who need them the most.
"The students I worry about the most aren't the ones that we see, but the ones that we haven't," Franck said. "They're the ones who isolate themselves and kind of drop off the radar if they're living at home or in Rez, or stay in their room and nobody notices them.
With existing resources stretched to the limit, and not realistically about to improve, Franck said creative thinking and programs can help deal with the challenges the services face. Counseling already offers a variety of workshops and both services hope group sessions will help alleviate the demand problem. At the same time, de-stress initiatives like those recently undertaken by the Health Promotion Team with their peer-to-peer outreach work can help keep student stress levels in check, and demand down. (See the De-Stress in April events calendar here).
(This month, Counseling Services is teaming up with the SSMU on a pilot project where students can engage in a variety of de-stress activities like yoga, guided relaxation and Therapy Paws. The free, 30-minute sessions will take place in between exams. No registration is required.)
Online tools, social media help ease burden
A recently announced $500,000 grant (over five years) from Bell Canada to develop an online mental health assessment tool is welcome news indeed. Once it is developed, those reluctant or unsure if they need to seek help can use it to assess their mental state and then seek help if they still think they need to.
Then there's the idea of using social media as a vehicle for identifying students at risk.
"What I've been impressed with over the years, and there's been research indicating this is the case, is that some students will sometimes be more forthcoming on social media than they are with parents, or professors or friends in person. They will post on Facebook or Twitter, stuff like 'bummed out,' 'haven't been to class for three days,' 'really down,'" Franck said, noting that Residence floor fellows have asked to be Facebook friends with students, if possible.
"Coming to university…it's a time of change for students, it's a whole different milieu, with lots of things going on academically, socially, sexually," Franck said "All of those things happen at the same time, so it can be quite overwhelming, so what sort of ways can we help them weather this successfully?
"All that goes into the whole issue of coping strategies and the stress management skills that students learn. Are they coming into university with skills that they can use to manage these types of academic challenges and social challenges?" Frank continued. "And that's where I think universities themselves can play a very important role. Ideally there would be a Wellness 101 course for all first-years."
"I'm glad these kinds of conversations are taking place, said Vera Romano of the increasing focus on student mental health. "I think we are moving towards understanding. On the one hand people are talking about a crisis in mental health on campus. But I think that crisis is the beginning of an opportunity for shifting the paradigm to a conscientious choice of a community of wellness and excellence."
To learn more about the Counselling Service, click here.
For more on McGill's Mental Health Services,  click here.
 OSD works to keep students on track
By  Jim Hynes
McGill's Office for Students with Disabilities (OSD) also assists students with mental health problems. According to OSD Director Frédéric Fovet, about 25 per cent of the 1,400 students the OSD currently serves are affected by mental health issues.
"These students, along with students with ADHD, Learning Disabilities and Autism Spectrum Disorder, are commonly referred to as 'emerging clienteles,' " Fovet said. "These invisible and non-traditional disabilities represent over 60 per cent of our user population."
The majority of students with mental health issues, or experiencing crisis, are eligible for accommodations under disability provisions, but most of them don't know about it. The standard accommodation for students in situations of this kind is known as "stop watch." This means that the student will be able to leave the room if they are in crisis and re-enter once they have stabilized, without seeing their exam time affected. The goal of such accommodations is to enable students to complete the exam and the term, rather than ending up with deferred exams which tend to only increase the pressure and the anxiety the following term.
"This is an accommodation which proves very effective and goes a long way to reducing the level of anxiety experienced by students as exams approach," Fovet said.
"Being registered with the OSD in fact represents a great advantage to these students as we can assist them, not just during the exam period, but throughout the year. We offer the services of a strategist who can accompany the students in the search for tools through the semester."
The strategist, Patricia Diaz del Castillo, accompanies students on a one-on-one basis but also runs workshops that seek to guide students towards practices and tools that enable them to keep the manifestations of their anxiety diagnosis to a manageable level.
Starting next semester, the OSD will offer three workshops for students with high anxiety and mental health issues that will widen the tools to include navigating campus services for mental health assistance as well as maintaining wellbeing and balance.
"We see this as a proactive approach, which is far preferable to the regular 'crisis management,' " Fovet said. "As a result, very few of the students with mental health issues registered at the OSD have recourse to solutions such as deferred exams and withdrawals. Fewer than 20 a year require such procedures and many remain functional enough to complete their academic goals."
To learn more about the Office for Students with Disabilities, click here.