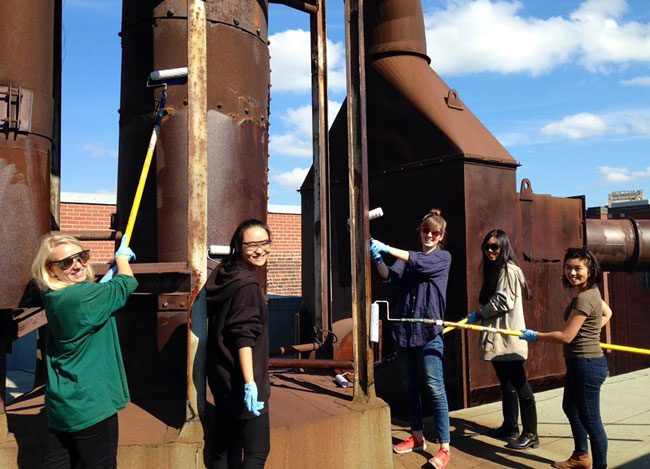 By Swathi Meenakshi Sadagopan
What can we do to revitalize our neighborhoods while propelling Montreal forward as an international hub of innovation?
The Quartier de l'innovation (QI) is the answer. The idea for this creative ecosystem to foster innovation was born in 2009 (formalized in 2013) as a response to the challenges of a rapidly changing, dynamic world. Through the years, QI has continued to build a thriving ecosystem integrating four pillars – industrial, education and research, urban, and social and cultural – each deemed essential for a vibrant and creative society.
Vital to the ecosystem has been the participation of universities in the QI, beginning with McGill and ÉTS, as founding partners. Recently, Concordia University has joined the QI bringing its social capital and research expertise into the ecosystem.
As founding partners of the QI, McGill and ÉTS recognize the importance of imparting to their respective students opportunities for an experiential education with a social perspective. As Francine Verrier of ÉTS puts it, "One of our goals is to enhance the capacities of students as the actors of change with impact in the community." In the past, ETS focused on radicalizing green spaces and is continuing that focus in the new academic year as well by adopting a theme of urban revitalization and development and creating green, secure and smart cities.
The projects to date have been efforts to echo and amplify this mission of connecting members of the university with the larger community. QI Project Director Isabelle Péan, for example, highlights McGill's involvement in Le Salon 1861 – a socially responsible project that will protect the architectural heritage of the St-Joseph Church in Little Burgundy and turn it into a destination for cultural and social innovation as well as social entrepreneurship.
Projects led by McGill such as the Laboratory of Urban Culture and the Social Innovator Integrator Lab (SIIL) will be hosted in the Salon 1861. This project has also seen several faculties from McGill collaborate and work with each other, including the Desautels Faculty of Management, the Faculty of Agriculture in McGill's MacDonald Campus, the School of Urban Planning, the School of Architecture, the Faculty of Music and the Faculty of Arts. This initiative has thus encouraged multidisciplinary and multi-partner involvement (within the local community) in order to launch innovative initiatives to energize the community, enrich student experience, leverage research funding and accelerate entrepreneurial activity.
As the newest member of QI, Concordia's excitement in the possibilities of this collaboration is palpable from spokesperson Cléa Desjardins's response. "The collaboration will create new opportunities for our students and faculty to do what Concordia does well: to think creatively, to think outside the box and to partner with start-ups, community organizations and other institutions that have a passion for innovation."
Institutional partnerships offer unique opportunities that were previously untapped. For instance, given QI's NPO status, faculty members have increased access to federal grants while applying in partnership with QI. This helps build a collaborative community that realizes that their strength comes from being united. Furthermore, in a community that is open and sharing, duplication of research initiatives is avoided.
As QI adds new university partners, the ecosystem is taking on a state of fluidity that is continuously evolving. Understanding what works best or does not in such an emerging environment is quite difficult. However, the universities have figured out a mantra that works best in this case. In Péan's words, "Never say no!" With increasing demand for projects within the QI from faculty members and students, this of course, is the best attitude.
The culture of innovation permeates through the very way in which the QI's university partners operate. Talking to the respective program directors, Péan at McGill and Francine Verrier at ETS, a commonality emerges in terms of their approach to engaging their respective universities with QI's projects. They seem to be adopting a flexible perspective, treating each project and partnership as an experience to be evaluated upon its completion. Upon reflection and evaluation of past experiences, adjustments are continually made while leading up to the next project. Indeed, this type of learning-in-action is what makes the QI the innovative hub that it strives to be.
With Concordia's education and research initiatives complimenting those at McGill and ETS, plus a burgeoning demand for projects within the QI, we are positive that the innovation ecosystem in Montreal is both alive, well and on its way to getting even better.
Swathi Meenakshi Sadagopan is doing a Masters in Electrical Engineering, Faculty of Engineering