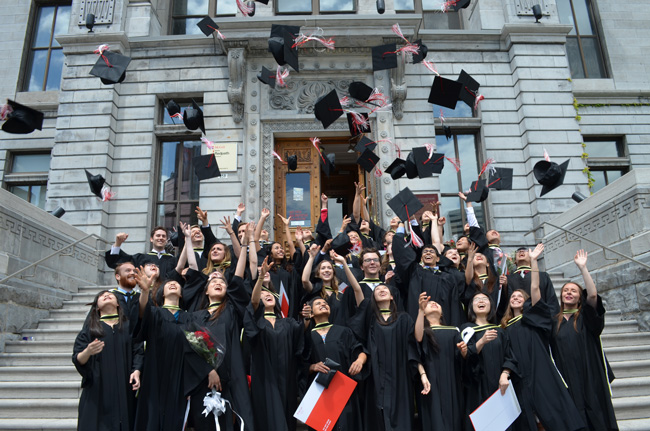 By McGill Reporter Staff
Universities in Montreal have an enormous positive impact on the region's economy, according to a new report produced by the renowned KPMG consulting firm.
The report, commissioned by the universities and the Chambre de commerce du Montréal metropolitain, in partnership with Montréal International, shows that the 11 universities active in the Montreal region have more than 155,000 students in total. In 2014-15, these schools conferred approximately 53,000 degrees. The report was made public on Wednesday, Oct. 5.
This large pool of students has economic clout. The study concluded that students made an economic contribution of $22.7 billion in 2014-15, while the universities themselves spent $4.3 billion the previous year.
Students from outside Quebec generate expenditures of $540 million, which translates to nearly 3,500 additional jobs in the Montreal area, the study said. And universities themselves employ approximately 41,475 people.
The study noted that university-driven research accounts for nearly 40 per cent of all research and development in the province of Quebec and technology transfers from universities to industry and the corporate sector are major engines of innovation.
"Knowledge is the foundation of our economic attractiveness and it is essential to position our Greater Montreal university hub as global in outlook," said Hubert Bolduc, President and CEO of Montréal International. "The availability of talent and university graduates is indeed a leading factor when foreign investors look to locate their operations. We must collectively identify our challenges and act quickly to increase the number of university graduates, while retaining more international students in the region."
And there are challenges. Despite the enormous presence of universities in the Montreal area, only a third of the city's population of working age has a university degree; placing the city 14th among 15 metropolitan areas studied by the Institute of Quebec. By comparison, nearly half of Boston's workforce has a university degree.
The lack of participation in post-secondary education in Greater Montreal is puzzling, given that, as the study found, the employment rate for university graduates was 73.4 per cent in 2015 compared with only 56.3 per cent for those with a high-school diploma. The unemployment rate was also found to be lower for university graduates – 6.2 per cent, against 9.4 per cent for those with a high school diploma.
"In addition to being partners in our economic development, universities are actively involved in their communities by making their talents and excellent facilities available to Montrealers," said Mayor Denis Coderre. "So students, faculty and staff of these institutions contribute to the dynamism and vitality of the metropolis. Let us be proud of our universities," he said.