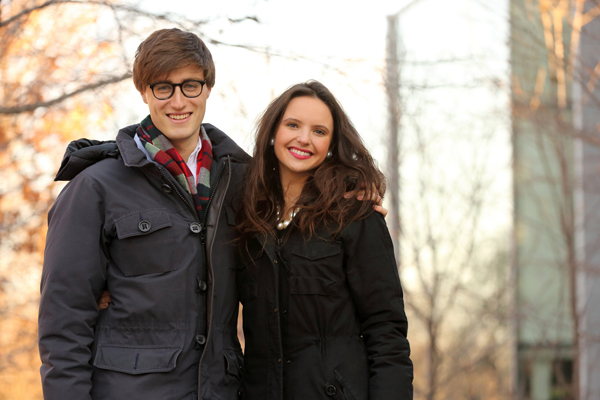 By Doug Sweet
"We have one more question for you," the Rhodes people told Joanna Klimczak, a graduate student in McGill's International Management Program, and Benjamin Mappin-Kasirer, a student in the Faculty of Medicine, in separate phone calls Saturday night.
"In the event that you were awarded a Rhodes Scholarship for 2015, would you accept it?"
Both had difficulty formulating coherent answers as they digested the news that they had won coveted Rhodes Scholarships that provide the means for two years of study at Oxford. It is the most prestigious scholarship in the world.
A self-described philanthropist and social entrepreneur, Klimczak, 23, is the co-founder and chief executive director of MyVision, which is a global movement of young leaders dedicated to cultivating student social entrepreneurs and to building social businesses to solve social issues. To date, MyVision has 17 chapters in 10 countries, of which the first to be created, also by Joanna and co-founder, Yashvi Shah, was at McGill. The network's Advisory Board of Directors members include Nobel Peace Prize Laureate Muhammad Yunus and Hans Reitz, co-founders of the Grameen Creative Lab.
The McGill group created a company called LIFE, which stands for Learning is For Everyone. It tackles the alarming drop-out rate among students here in Montreal by partnering with the Boys and Girls Club of the Dawson Community Centre. At-risk youth come to the centre for mentoring. The business LIFE provides tutoring at McGill and a portion of the fees it charges to students goes to help pay for the mentoring, while the rest pays for the tutor.
"It's doing quite well. We launched it just a couple of months ago," Klimczak, a native of Niagara Falls, Ont., said in an interview.
It's an example, she said, of how business can help the world, not hurt it. In her optimistic eyes, social businesses, acting in responsible, sustainable ways, can open up all kinds of opportunities for dealing with severe social problems around the world. "I learned, in one of my first semesters at McGill, that business is all about creating value – creating a product or a service that can help the world run better."
There's nothing wrong with making a profit, she said. "We can do it in a way that makes the world a better place."
Mappin-Kasirer, fresh from a BA in French literature at Yale, is plunging into a totally different field, medicine, and glad to be back in his hometown of Montreal. If part of his last name looks familiar to McGillians, it should. His father is former Law dean and now Quebec Court of Appeals Justice Nicholas Kasirer.
He's hoping to study global health subjects at Oxford along with a dash of bioethics and health politics, while keeping his hand in the Humanities with a study of literature at perhaps one of the best places in the world to pursue that field.
Mappin-Kasirer, 22, said it's hard to predict his future based on the dramatic turn it just took over the weekend, but he sees himself in 10 years as a doctor working in Montreal. It's too early, he said, to say which branch of medicine.
But it's likely he'll provide some service to the community above and beyond the normal call. While at Yale, he organized his fencing team to find time and ways to help out at homeless shelters and in area schools in New Haven, Conn. Most of their contributions were in tutoring at-risk youth, something he has in common with Klimczak.
Rhodes scholars are generally evaluated on their academic record, the ways in which they have contributed to their communities, and their athleticism.
In Mappin-Kasirer's case, the athletics are targeted on fencing. He's been fencing since before he was a teenager and was a member of Team Canada in 2009. His Yale squad took the Silver medal at the inaugural United States Collegiate Squad Championships in 2010-11.
But surely a Montreal boy knows how to play hockey, too? "Oh, yeah, of course," he said, before noting "my Dad is forever a better hockey player than me."
For Klimczak, athletic endeavours seem propelled by the same sense of adventure that drives her international business interests.
From running a half-marathon on the Great Wall of China to competing in a wide variety of dance competitions of various types in different places around the world, Klimczak has immersed herself in dramatic experiences that would be the envy of the vast majority of her contemporaries.
Where will she be in a decade? "I see myself working in private-sector development. There are lots of opportunities to solve the world's problems through business," she said, noting that a role with the International Finance Corp., an independent branch of the World Bank, sounds just about right.
These two remarkably poised young people bring to 138 the number of McGillians who have won the legendary Rhodes Scholarship, which provides the means for two or three years of study at Oxford University. McGill has the most Rhodes winners of any university in Canada.