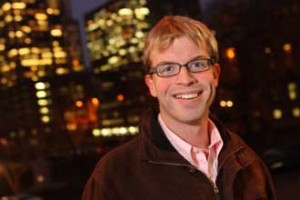 By Julie Fortier
When Vincent Larochelle read the selection criteria for the Rhodes Scholarships earlier this year, he knew they matched his approach to life.
Enrolled in an Honours BSc program in Mathematics with a Minor in Classics at McGill, the 21-year-old from Quebec City is strongly motivated by truth, courage and devotion – values Rhodes Scholars should exemplify, in addition to demonstrating strong academic achievement and a commitment to sports.
"To me, courage means choosing the road that is paved with obstacles even though all forces are driving you toward the easier one," Larochelle explained.
Larochelle and Stephen Aylward, also 21, recently became McGill's 129th and 130th Rhodes Scholars. They plan to head to Oxford University in the fall of 2009.
Both students embody the spirit intended by the international scholarship program, which offers two years of study at the prestigious school. The Rhodes Scholarships, established in 1902, seek individuals who have demonstrated respect for their fellows, an unselfish spirit and the potential for leadership.
Aylward, from Mount Pearl, Newfoundland and Labrador, is an Honours BA student in Philosophy with a Minor in Political Science at McGill. He's an accomplished singer, musician and debater, having served on the executive of the McGill Debating Union. He's also been involved with Amnesty International since Grade 9.
He, too, does not take the easy road. Last year, he went to Freiburg, Germany, and studied early 20th-century philosophy in German.
"It was challenging at first, but I like to get out of my comfort zone and push myself to the limit."
At Oxford, Aylward will enroll in a program that will allow him to obtain a Law degree in two years. He wants to devote himself to Immigration Law.
"I'd like to have a career that is intellectually stimulating but also rewarding on a human level," he said. "And as we see climate change and globalization continue to shape global population flows, I think Immigration and Refugee Law will be a most fascinating area in the next 15 years."
Both students credit their studies at McGill with having helped them develop solid analytical skills.
"I chose to study math in university not because of the possible career options, but because mathematics allows you to develop an incredible intellectual sharpness," Larochelle said.
After doctoral studies in mathematics at Oxford, Larochelle is aiming for a career as a lawyer or something in politics. This fall, apart from his studies and his work at the Math Help Desk or as a private tutor, Larochelle managed to find time to be on the McGill fencing team, volunteer with an organization that supports people with reduced mobility and run for the Green Party in the last federal election.
Eleven Rhodes Scholarships are awarded to Canadian students each year on a regional basis. Over the years, McGill has had the most Rhodes winners of any university in Canada.