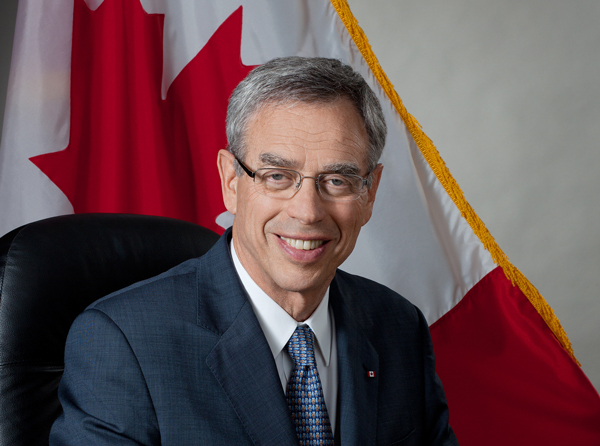 Joe Oliver takes over in Finance, Greg Rickford moves to Natural Resources
By Doug Sweet
Two McGill alumni were been promoted in Prime Minister Stephen Harper's Cabinet Wednesday.
Joe Oliver (BA'61; BCL'64) replaced longtime Finance Minister Jim Flaherty, who announced his retirement from politics on Tuesday. And Greg Rickford (BCL'05; LLB'05), formerly Minister of State for Science, moves into Oliver's chair as Minister of Natural Resources.
Both were sworn in at Rideau Hall Wednesday morning, along with London, Ont., backbencher Ed Holder, who will oversee Rickford's Science portfolio.
The bilingual Oliver, 73, who represents the Toronto riding of Eglington-Lawrence, was born and raised in Montreal. Following his McGill studies, he went on to do an MBA at Harvard, before launching a career as an investment banker with Merrill Lynch on Bay St. Oliver also served as executive director of the Ontario Securities Commission and as CEO of the Investment Dealers Association of Canada. A candidate for the Conservatives in the 2008 federal election, Oliver narrowly lost to the Liberal incumbent, Joe Volpe. But in the May 2011 election, Oliver toppled Volpe and moved immediately into Cabinet.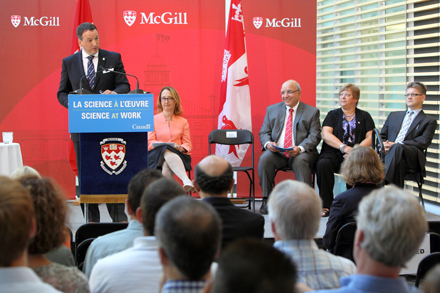 Also bilingual, Rickford, 47, did his Common and Civil Law degrees at McGill before moving on to do an MBA at Université Laval. He was born in Paris, Ont., near Brantford, but has lived and worked as a nurse and a lawyer in Northern Ontario and represents the riding of Kenora. After being elected in 2008, he served in a number of Parliamentary Secretary roles dealing with aboriginal issues before being promoted to Cabinet in a 2013 summertime shuffle.
Principal Suzanne Fortier mentioned the ministers in her remarks to Senate Wednesday afternoon, noting the McGill connection.
"We hope that that will help us in creating a good relationship with the individuals in these positions," she said.
Both men will face significant challenges in their new roles. Oliver inherits a budget that is, in effect balanced and heading for surplus in advance of the October 2015 federal election, but the rosy budgetary outlook is tempered by recent warnings that Canada faces a period of slow post-recession growth that may become the new normal. Rickford will have to stickhandle pipeline and mining projects in the face of continued opposition from aboriginal and other groups, as well as overseeing the enormous issue of whether the United States will approve the Keystone XL pipeline that would funnel western Canadian crude oil to refineries at the Gulf of Mexico.
Another McGill alumnus, Chris Alexander (BA'89) also serves in Harper's Cabinet, as Minister of Citizenship and Immigration.