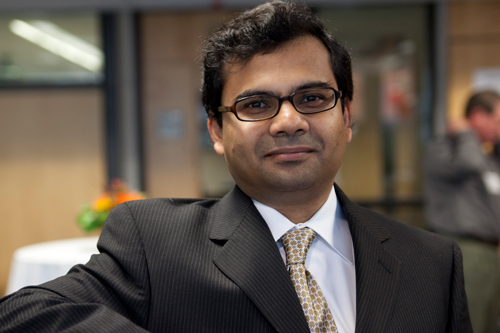 By McGill Reporter Staff
The first annual Trottier Symposium on Sustainable Engineering, Energy and Design will be held March 17-18 at le Centre Mont-Royal from 5:30-7:30 p.m. This year's theme: "Engineering our prosperity: sustainable cities and industries in the 21st century." Free, open to the public.
The Reporter caught up with Prof. Subhasis Ghoshal, Director of the Trottier Institute for Sustainability in Engineering and Design (TISED) at McGill to find out more about this inaugural event. TISED will organize the symposium each year in collaboration with the Institut de l'énergie Trottier (IET) at Polytechnique Montréal. McGill University is the host in 2014 and Polytechnique Montréal will host in 2015.  For more information on the upcoming Symposium, go here.
What exactly do you mean by "sustainable cities" and "sustainable industries"?
Sustainable cities and industries are systems that minimize consumption of resources – for example, materials, energy, water – both in development and delivery of services and products, but also in minimizing waste production and emissions (e.g. solid waste, wastewater, greenhouse gases). Sustainable cities and industries are also systems that enable economic and social advancement. All of this seems like a tall wish-list, but we are finding ways of integrating all this in our blueprints for the future of our cities and industries. Our symposium will feature speakers who have outlined some of the most promising pathways for achieving cities and industries that are more sustainable.
With all the crumbling infrastructure in Montreal, it seems like we've got a long way to go to make this city sustainable. Will this symposium provide some ideas about how to go about it?
The symposium will focus on how can we do things right in the future for cities such as Montreal, and highlight efforts being made in that direction already. The symposium will help us think about infrastructure and the city we want in the future.  The technology for building efficient infrastructure is improving over the years, but there are challenges in operating and maintaining infrastructure. A major question that the symposium will deal with is how future development and redevelopment can be planned such that some of those challenges can be addressed.
TISED and IET last fall submitted a joint brief to the Quebec government recommending key changes in the government's thinking on energy policy, to encourage long-term solutions. Will the two institutes be collaborating on more initiatives like that?
Absolutely! Both of these Trottier Institutes will work very closely on various initiatives. This symposium has been planned jointly by TISED and IET and future editions of the symposium will be jointly planned as well. But our collaboration will run much deeper than the annual symposiums. We plan to collaborate extensively on research initiatives, policy seminars and reports, as well as on education and outreach initiatives.
Beyond the symposium, what should we look for from TISED in the future?
TISED is looking to enable its members and collaborators to promote sustainability in engineering and design in various ways. We recruited 50 member professors within a couple of months, reinforcing again that there's a real appetite to work on applications of engineering and design in sustainability-related policy and research. We will be working with other McGill Faculties and units, other universities, government, industry, community and professional groups. TISED will contribute to the promotion of public policy on sustainability and communicate research findings and expert recommendations on a range of issues such as urban development, electric grid resiliency while incorporating alternative energy sources, sustainable manufacturing and green aviation.
In the coming year, faculty members will be active in hosting and organizing seminars and publishing reports on policy and technology for sustainability through engineering and design. They will also be active in implementing strategies to address sustainability more significantly in the engineering curriculum Furthermore, TISED will be looking to enhance our breadth of research and teaching in sustainability by establishing an endowed Chair, setting up faculty scholar awards and through our recently launched Scholar-in-Residence program.