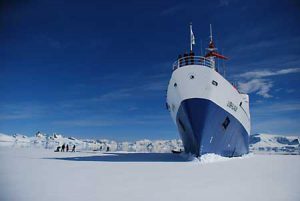 A different kind of snowbird
By Tamarah Feder
Like thousands of snowbirds, Prof. Eric Galbraith of the Dept. of Earth and Planetary Sciences is heading down south this February, but instead of swimming warm oceans and lazing on white sandy beaches, he and nine of his students will be bundled up making their way through freezing waters and monumental mountains of snow.
Galbraith and his students are heading to Antarctica as part of the Students on Ice educational program. Launched 10 years ago, the award-winning educational expedition program is an extraordinary opportunity for students to explore and study the region up close and collect specialized scientific data. To date, over 1,500 students, teachers and scientists from around the world have traveled to the Arctic and
Antarctic. Though the program has broad range of sponsors from sectors as diverse as private corporations, environmental groups, research organizations and international NGOs, university students are responsible for covering the costs of their trip, which can cost as much as $10,000. This is the first year McGill will participate, thanks to Galbraith's efforts – and the hard work and savings by his determined students.
Along with nearly 70 students from five other universities from Canada, the U.S. and Europe, Galbraith and his group will board ship in Argentina and cross the Drake Passage to the Antarctic Peninsula, arriving about five days after they depart Montreal.
Galbraith, who has led seven expeditions of high school and university students, has prepared his charges by teaching them how to access, plot, analyze and interpret global oceanic data sets that include millions of observations made over recent decades. His students – who represent faculties as diverse as Science, Environmental Studies and Management – will apply what they have learned to understanding how things look in the region today compared with the past. And they will also be looking for signs of change.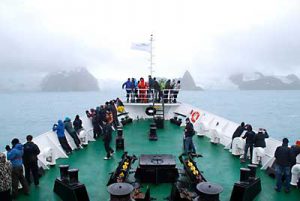 "We will be travelling around a fairly large area of the Southern Ocean that is still undersampled, so we will be able to take some valuable ocean temperature and salinity measurements. We plan to contribute the data and observations we collect for use by researchers around the world." said Galbraith.
The Southern Ocean that surrounds Antarctica provides oxygen to and aerates the rest of the world's oceans. The dynamics of the Southern Ocean play a critical role in keeping the region cold; if the water temperatures don't stay cold enough, the ocean will bring warmer waters to the ice sheets accelerating glacier melts which cause sea levels around the world to rise.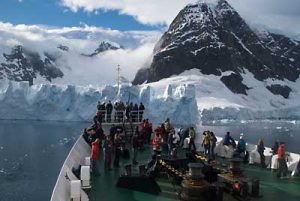 The MV Ushuaia, the ship that will carry the students, professor and crew totalling about 110 people, was originally built for the U.S. National Oceanographic and Atmospheric Administration (NOAA). It is equipped with a winch, a motorized spool to which Galbraith and his students will attach a probe to the end of a cable that will allow them to collect the measurement data.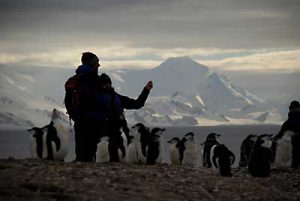 Practically void of humans, the region is home to diverse wildlife. In addition to the business of taking measurements, Galbraith and his students are looking forward to seeing Humpback, Orca and Minke whales, as well as Weddell, Elephant and Leopard seals and millions of "very curious and cute but very smelly Gentoos, Adelie and Chinstrap penguins", laughed Galbraith.
For Galbraith, bringing his students on the trip is a way to empower them with an empirical experience that will demonstrate how and why what happens in Antarctica matters. In addition to writing up research reports upon their return on Feb. 28, Galbraith and his students plan to document their experience and the work they are doing in word and on film.
As for all those tomato-coloured snowbirds floating belly-up in Caribbean waters, don't feel too bad for Galbraith and his students as they float past glaciers. They're going swimming, too. In a volcano. In a part of the world where the sun sets after midnight.
To learn more about the Students on Ice program, visit www.uantarctic.org/education-program.php. To view videos from the expedition go to: www.uantarctic.org/2011-videos.php