Property damage is extensive, cow's winter feed destroyed 
By Neale McDevitt
The normally bucolic scene at McGill's Macdonald Campus Farm was disrupted early this morning when a fire broke out in the feed storage area adjacent to the dairy barn, home to some 135 dairy cows. Although property damage is extensive, no people or animals were harmed, thanks largely to the timely actions of Farm employees and a group of student lumberjacks who pitched in to lead the spooked cows to safety.
At approximately 5:40 a.m., a fire broke out in the feed storage area. Because of the vast quantities of dry hay and straw in the facility, the fire spread rapidly.
"It could have been a lot worse, but our quick-thinking employee, Martin Chaumont, closed the fire doors between the feed storage area and the actual dairy barn," said Paul Meldrum, manager of the Macdonald Campus Farm. "[Chaumont] tried to put the fire out but it spread too quickly, so he called the fire department and had the staff leave the barn."
Some 60 firefighters arrived on the scene to battle the blaze. Once it was determined it was safe to enter the dairy barn, employees were allowed in to escort the cows to nearby fields where they were given water and food.
By this time, members of the Mac Campus Woodsmen team had also shown up to help, having seen the flames from the nearby Morgan Arboretum where the team was holding its regular 6 a.m. practice.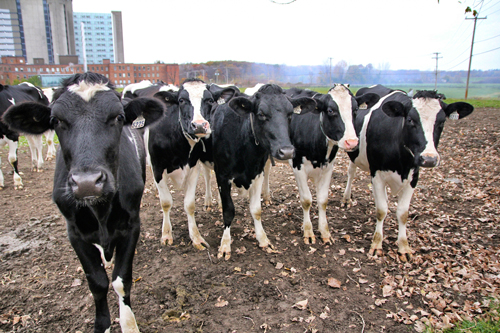 Michael Breault, a Farm Management and Technology student, was one of the lumberjacks who pitched in. "There was some smoke and a lot of people rushing around. The cows aren't used to that, so they were a little panicky," said Breault, noting that most of the woodsmen are farmers who are used to working with cows. "I don't think firemen have much experience with cows," he said, "so I think it was a good thing we were here."
Chandra Madramootoo, Dean of the Faculty of Agricultural and Environmental Sciences, said it will take hours, perhaps even days, to bring the situation under complete control, thanking everyone who responded so quickly to keep a bad situation from getting much worse.
"I want to pay a very special tribute to our FMT students who were already moving the animals from the barn when the fire commenced, and they continue to care for and feed the animals at this time," said Madramootoo. "Let me also thank our Farm, Facilities and Security personnel who have been of immense help since the fire started. Residents and elected officials of our neighbouring communities were on the scene as quickly as possible, helping in all possible ways. My heartfelt thanks to everyone."
As firefighters tried to contain the blaze, farm employees manned an excavator and several backhoes to help clear smouldering debris. Meldrum said the massive storage area where the fire originated is a total loss, as is at least one of the nine silos standing nearby.
"We still have to assess each silo and see if there are fires burning inside them," said Meldrum. "At least one will have to be torn down and possibly more. At this point I can't even hazard a guess as to how much damage has been done, but it will be in the hundreds of thousands of dollars."
Meldrum's immediate concern is the cows. "The first priority is to get the cows back in the barn but we need to assess the barn to make sure that is possible. Cows are tough but we want to get them in before the weather gets nasty," he said. "Then we have to assess what we have left in terms of feed because we've lost a lot of the winter feed. These cows consume a lot so we have to make sure they are properly fed.
"But we belong to a good farm community and we've already had people phone us asking if we need feed or help moving cows, or if we need another barn… It's a typical farm community – they come together very quickly.
"It's been a tough day but it could have been a lot worse," said Meldrum.