By Chris Chipello
For a freshly minted BCom graduate with an entrepreneurial bent, Gideon Hayden is off to a flying start.
Hayden was one of three dozen undergraduates selected from more than 1,300 who applied from across Canada last December for the first cohort of the Next 36 – a program that aims to help turn some of the country's most innovative undergraduates into its next generation of entrepreneurial leaders.
The Next 36, co-founded by McGill alumnus and serial entrepreneur Reza Satchu, is based on a popular course he taught at the University of Toronto for seven years before the program was launched. The program is also supported by Canadian business icons W. Galen Weston, Paul Desmarais Sr. and Jimmy Pattison, and McGill has become one of the program's "academic partners."
The 36 students chosen last December were split into teams of four, provided with mentors, and told to go off and try to create a venture based around a mobile app. In mid-August, when this first cohort completed the nine-month program, Hayden's team won "most promising venture" for its app, known as Tradyo.
Tradyo, which launched in Toronto in late July, is a "social marketplace" app that enables users to trade, buy or sell goods locally. Sellers use their mobile phone to photograph items they want to sell. For buyers, Tradyo relies on the GPS function in the user's smartphone to find items for sale nearby.
The concept was inspired by the "collaborative consumption" movement – the idea that, in a society where homes are full of little-used items, sharing, swapping, trading and renting can reinvent the way consumers behave.
In contrast to established online services like Craigslist, Tradyo aims to "bring the user to the forefront," Hayden explained. "It's more of a way to meet and establish a community." If a student is interested in a certain writer, for example, he can find others who share that passion and may have items to swap or sell.
Like the other Next 36 projects, Tradyo got $25,000 in cash from telecommunications executive Anthony Lacavera to get the business idea rolling. Hayden said he and his partners now are reaching out to venture capitalists and angel investors in an effort to raise an initial round of seed capital, $75,000 of which already has been committed.
The plan is to roll out the product to university students in Montreal in about a month. "A huge number of students live in the McGill Ghetto," noted Hayden, a Vancouver native who lived in the McGill Ghetto as a student. Tradyo "would be really useful there." The app is available only for the iPhone so far, but an Android version is due out soon.
For more information about Tradyo: https://tradyo.com/about.html
'Campus Swaps' puts Desautels undergrad in running for College Entrepreneur of 2011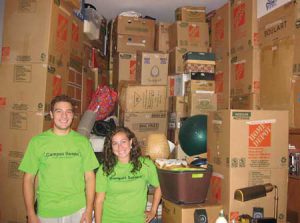 The collaborative-consumption movement may be spawning a cottage industry at McGill.
While recent graduate Gideon Hayden (see story left) prepares to bring his venture's social-marketplace app to Montreal, two undergrads already have launched a social enterprise designed to help graduating students pass along second-hand goods to newcomers, instead of tossing everything in the trash.
BCom student Shira Abramowitz and Christian D'Andrea, a Psychology major in the Faculty of Science, are the co-founders of Campus Swaps – an initiative that has earned Abramowitz a spot as a finalist in Entrepreneur.com's College Entrepreneur of 2011 contest.
Campus Swaps is a "student-run campus-sustainability initiative" that "addresses the problem we like to call 'stuff management,'" Abramowitz said. "At McGill, students come from all over the world, and when these students graduate and move away from Montreal, they tend to throw out a lot of stuff – things like school supplies, clothing, kitchenware and more.
"Each spring move-out, these items wind up on the curb, in the trash – and eventually in a landfill, even when they're in perfect condition," Abramowitz said. And each fall, new students look to purchase the same items for their apartments or residences – and often wind up doing so at retail stores, "inputting even more stuff into this linear system of waste."
Campus Swaps aims to turn that system into a "sustainable cycle of ownership," staring with a free pickup service during spring move-out, followed by storage over the summer months, and sales of the items during the fall move-in weekend.
This year's pilot project at McGill diverted some 4,000 pounds of goods from landfills, Campus Swaps estimates. "Given the level of success from our first sales event, we are looking to expand to other campuses in Montreal within the year, and possibly into the U.S. as well," said Abramowitz, who is originally from San Diego.
– Chris Chipello