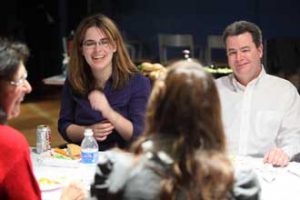 By Cynthia Lee
Aside from its name, McGill's Trading Spaces initiative shares very little in common with the 1983 Hollywood classic starring Dan Aykroyd and Eddie Murphy. Although, both do play on the fish-out-of-water theme.
This year, McGill's Trading Places – in which a student exchanges roles with an administrator or faculty member – was expanded to include a pair of role swaps that saw two undergraduate students and a pair of administrators see how the other half lives.
When U1 music student Beth McKenna learned she'd be installed as Dean of Arts for the day, she was thrilled. "As a Music student I have lots of interest in the Faculty of Arts, and I take part in student performances such Cabaret and Hair," said McKenna.
The day was insightful for the undergrad as she shadowed Arts Dean Christopher Manfredi on his tightly packed schedule of meetings. "I learned that being a Dean involves lots of travel and more involvement with student life than I expected."
For his part, Manfredi loved the break from his everyday duties. As a music-student-for-a-day, Manfredi attended three classes and took a tour of the Schulich building. "I have to say, I liked slipping into the role of student," said Manfredi. "I was impressed by the students I met in and outside of class.
"It made me wish I had a little musical talent myself," he said with a laugh.
For Research Innovation Officer Erica Besso, her experience trading places with U1 Science student Roxana Mititelu was a trip down memory lane. A former McGill Science student, Besso enjoyed sitting in on one of the very classes she was enrolled in at McGill years earlier. "A lot has changed since my day in organic chemistry class," said Besso, "now the level of interaction has really enhanced the learning experience."