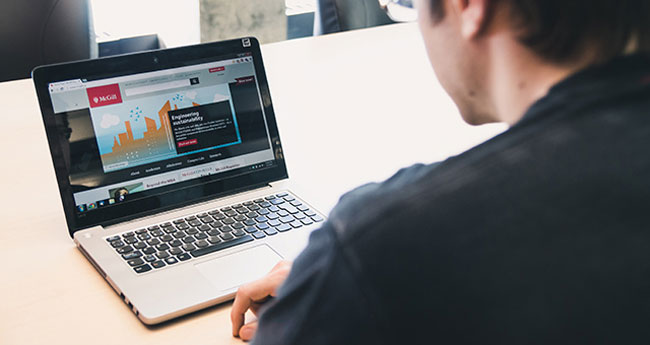 You're already finding your way around campus — now find your way around the Web! Here are the 15 most useful sites for new and returning McGill students:
Did you know that McGill has a home page customized especially for students? Bookmark www.mcgill.ca/students for links to exam schedules, Orientation events, great public lectures and other content that matters to you.
This is a master list of every service and resource available to you as a McGill student, all in one place.
This site helps new students settle into life at McGill and in Montreal, connecting you with the people and services you need to hit the ground running.
All the key dates for your academic year – including registration deadlines, exam periods and study breaks – in one searchable site.
This is where you'll find info about tutoring, English or French language help, academic advising and much more.
If you're looking for ways to get involved outside the classroom, check out this one-stop-shop for clubs, volunteering opportunities, on-campus jobs and more. There's so much to do here, it's ridiculous.
We're not all varsity athletes. Find out how to check out a game, blow off steam at the gym, strike a yoga pose, or take a dip in the pool.
8. Libraries
You'll definitely want to get familiar with McGill's libraries – both virtually and in person – before the school year really gets underway.
Check out this guide to all things IT (information technology) at McGill, from setting up your McGill e-mail to signing into campus Wi-Fi.
Thinking of studying abroad? This is where to find all the information about exchanges, internships and field studies with other universities across the globe.
11. Student Records
Find out about updating your personal information and getting important documents like your transcript, proof of enrolment or ID card.
12. Student Accounts
A place to learn about tuition, fees and e-billing, to make your McGill finances as stress-free as possible.
13. Student Aid
Need help paying for school? Apply for scholarships, bursaries, loans and work-study jobs, and find tools to help you balance your budget.
14. Food Services
Get info on dining locations, hours of operation, meal-plans and everything else you need to know about food on campus.
15. The Reporter
We don't mean to toot our own horn (well, OK, yes we do), but The Reporter is a great place to find out about all the interesting stuff around campus, from ground-breaking research to big events.