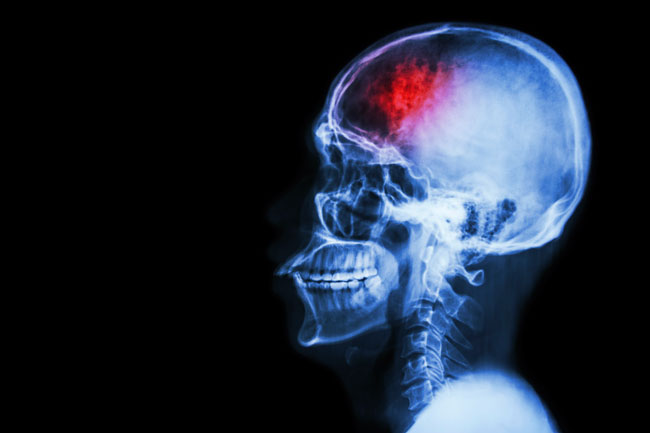 By Anita Kar (Montreal Neurological Institute and Hospital) and Gilda Salomone (MUHC Public Affairs and Strategic Planning)
A young mother reading a bedtime story to her son suddenly is unable to decipher the letters on the page. A middle-aged man at a restaurant has difficulty using his fork because his right arm has become very weak. An elderly woman looses her balance and then has trouble communicating how she feels to the Good Samaritan who helps her up. A toddler suddenly begins to drool and has difficulty swallowing.
All these people, even the toddler, are displaying stroke symptoms. And for each of them, getting immediate medical assistance could mean the difference between a full recovery, severe disability and even death.
"Canadians, paramedics, emergency department staff and other medical professionals all play a vital role in early stroke management," said Dr. Michael Hill, Director of the Stroke Unit, Calgary Stroke Program, and Canadian Heart and Stroke Foundation spokesperson at the release of the Heart and Stroke Foundation's Stroke Report 2015 earlier this month. "Rapid treatment is life- and disability-saving. Speed requires teamwork. How quickly and how well everyone works together within the stroke system of care can dramatically influence stroke patients' outcomes."
Thanks to ultra-specialized stroke centres at two McGill University Health Centre (MUHC) hospitals, people who have had a stroke are being assessed and treated at the right place, at the right time and by the right professionals.
Both the Montreal General Hospital (MGH) and the Montreal Neurological Hospital, (The Neuro), have recently earned new accreditation. The MGH was designated a secondary stroke centre and The Neuro a tertiary stroke centre. The accreditations were granted by the provincial government after a successful reorganization of services that has optimized speed and quality of care for stroke patients.
"The MUHC is the only medical institution in Quebec to have a tertiary and a secondary stroke centre," said Neurologist Dr. Robert Côté, Medical Director of the MUHC Stroke Program. "Both units are ultra-specialized and provide rapid assessment, diagnostics and treatment for any type of stroke intervention. The only difference between them is that The Neuro has interventional neuroradiology, a procedure used to retrieve clots inside the arteries."
The transformation of services is part of a stroke strategy put in place by the Ministry of Health in 2013 to improve stroke prevention and healthcare services offered to the more than 12,000 Quebeckers who experience a stroke every year. For every one of them, time is of essence.
"Time is brain," said Dr. Côté. "For every minute a stroke is left untreated, 2 million brain cells are destroyed. So, the sooner we treat patients the higher the chances of survival with fewer disabilities. That's better for patients and their families, of course, but it's also cost effective."
Specialized receiving area for stroke patients
Wanting to improve efficiency, The Neuro has opened a highly specialized Receiving Area (RA) inside its Intensive Care Unit (ICU) for incoming stroke patients.
When ambulance technicians respond to a call with someone displaying stroke symptoms, they assess the patient according to the Cincinnati scale. A positive Cincinnati rating considers symptoms such as slurred speech, facial droop and arm drift. Urgences Santé then alerts the RA staff through a direct line.
"Even though a patient has signs of stroke, it doesn't necessarily mean a stroke," says Siva Moonsamy, Managing Nurse at The Neuro's ICU. "So within 15 to 30 minutes of a patient's arrival to the RA, a neurological examination, CT scan and other tests are performed to confirm the diagnosis and a rapid course of treatment."
A neuro intensivist and ICU nurses cover the unit 24 hours 7 days per week ensuring that emergency stroke patients are cared for expertly and without delay. On average, the RA admits about four patients a day.
To treat and educate
For the past year, the MUHC Stroke Prevention Clinic (SPC) located at the MGH has been offering enhanced acute evaluation services to patients with a transient ischemic attack (TIA).
"A TIA produces similar symptoms to those of a stroke such as sudden weakness on one side of the body, face droopiness or difficulties finding words, said Heather Perkins, nurse clinician in the Stroke Prevention Clinic. "It usually lasts only a few minutes and often causes no permanent damage, but should be taken seriously, because these patients are at higher risk of having a stroke."
The clinic has the same access to radiology and ultrasound equipment as the Emergency Department so that all exams can be done as soon as is needed. It also follows up on patients recovering from a stroke and quickly refers them to rehab specialists.
Along with the new services, the clinic pursues its main vocation: to educate healthcare workers and patients about TIAs and strokes. As Dr. Côté explained, "The Stroke Prevention Clinic is extremely important. We can treat patients for acute stroke and send them to rehabilitation, but we don't want them to come back with another stroke."
How to recognize stroke symptoms