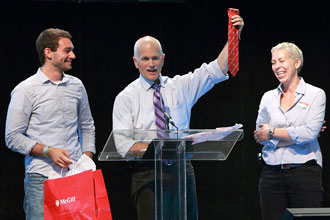 Influx of first-year students marks beginning of fall semester
By Neale McDevitt
The quiet, lazy days of summer at McGill came to an abrupt end last Wednesday as almost 4,000 first-year students descended upon the downtown campus to take part in Discover McGill orientation activities.
Organized by the First-Year Office, Discover McGill was divided into morning and afternoon sessions that had new students taking campus tours, meeting with people from their respective faculties and learning about the myriad of activities and student services offered them as members of the McGill community.
Principal Heather Munroe-Blum welcomed the new students at rallies at Tomlinson Fieldhouse, congratulating them for joining what some consider "the strongest, richest, most diverse and smartest student body in a university in the world."
But the Principal also had words of advice for the freshmen. "Each of you has excelled academically … and one of the things that may be a bit daunting is that you are used to being at the top of your class," said Munroe-Blum. "Now you will be in class with students from all over who have always been at the top of their class … that means that you won't necessarily be a shining star. I hope that takes a bit of pressure off of you and not put pressure on you… because you are here to learn and to teach each other."
Munroe-Blum was followed at the podium by New Democratic Party leader and McGill alumnus Jack Layton, who played the crowd like the veteran politician he is.
Layton got laughs from his young audience, reminiscing about the technology of his generation in which computers were "the size of Zambonis" and bemoaning the fact that McGill residences became coed the year after he moved out.
But he also got applause when he reminded his audience that they were "privileged" to be studying under the guidance "some of the best professors in the world."
"You are involved in a project of great significance to our society, to our world," continued Layton. "It is an investment in making a better world, in finding solutions to some of the challenges that we're dealing with as a community, as a global society, as a series of neighborhoods – and you've made a greatinvestment decision by coming to McGill."