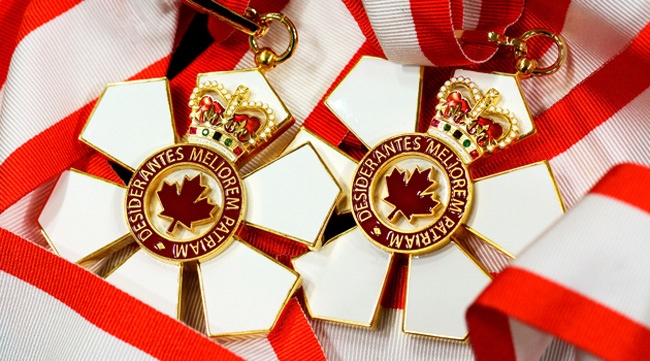 Thirteen members of the McGill community got an early start to Canada Day celebrations when they were among the 113 people named to or promoted within the Order of Canada on June 30. The McGillians include alumni, honorary degree recipients and current faculty members. The announcement was made by Governor General David Johnston (former Principal of McGill).
The Order of Canada, one of our country's highest civilian honours, was established in 1967 Her Majesty Queen Elizabeth II, during Canada's centennial year, to recognize outstanding achievement, dedication to the community and service to the nation. Over the last 49 years, more than 6 500 people from all sectors of society have been invested into the Order.
Six McGillians were named Officers of the Order of Canada. They include:
Eduardo Franco, Director of the Division of Cancer Epidemiology at McGill, for his groundbreaking contributions to the prevention of cervical cancer in Canada and around the world.
Philippe Gros (PhD'83), professor in the Department of Biochemistry, for his pioneering use of molecular genetics to identify risk factors in a range of conditions, including infectious diseases and cancer, and for his leadership in the health sciences.
Andres Lozano (PhD'89) for his contributions as a neurosurgeon who helped establish deep brain stimulation as a globally recognized treatment for movement disorders.
John McCall MacBain (BA'80, LLD'14), for his achievements as a business leader and for his contributions to academic institutions as a philanthropist.
Jacques Godbout (DLitt'03) for his significant contributions to the literary arts and critical thinking for over half a century.
Roberta L. Jamieson (LLD'11) for her contributions to Indigenous peoples across Canada, particularly for her work to improve funding, access and opportunity for Indigenous youth in the area of education.
Seven members of the McGill community were appointed Members of the Order of Canada. They include:
Gerald Batist (MDCM'77), clinical oncologist and Director of the Segal Cancer Centre, for his advances in applying personalized medicine to cancer treatment, and for his leadership in creating research networks in his field. Last week, Batist was named Knight of the Order of Quebec.
Françoise Baylis (BA'83) for her contributions as a champion of health care ethics in Canada, and for creating forums to discuss current medical ethics issues.
Zita Cobb (DLitt'16) for her contributions as a social entrepreneur who has helped revive the unique rural communities of Fogo Island and Change Islands through innovative social engagement and geotourism.
Ned Goodman (BSc'60) for his contributions to Canada's investment industry and for his philanthropic support for higher education, culture and health care.
Laurier Lacroix (MA'72) for his contributions as an art historian, and for his efforts to promote the artistic heritage of Quebec and Canada.
Mark Levine (MDCM'76) for his contributions as an oncologist, researcher and clinician who has developed a number of new treatment regimens that have become the Canadian standard in clinical practice.
Steve Lurie (M MGMT'02)for his contributions as a leading advocate and administrator in the field of mental health care.
Recipients will be invited to accept their insignia at a ceremony to be held at a later date.