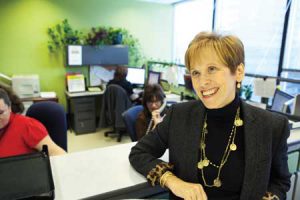 Faculty Relocation Advisor Jane Levin helps spouses adapt to new surroundings
By Neale McDevitt
When Jane Levin arrived in Montreal in the summer of 2006, she was excited at the prospect of relocating. A successful New York lawyer, Levin moved here when her husband Richard I. Levin was named VP (Health Affairs) and Dean of the Faculty of Medicine. "I had had a long career in New York and I thought I'd be happy to take a year off," she said. "But after four or five months, the novelty wore off."
Instead Levin found herself in the position of many spouses of new McGill hires; without direction in a strange city where she knew few people. "In New York, I had a circle of friends and I knew the city so well," she said. "But my first year here was tough because I wasn't quite sure what to do."
Luckily, just around that time, as part of McGill's continuing efforts to remain competitive internationally in attracting and retaining faculty members, the University embarked upon a new program to help find jobs for the partners of new McGillians.
When the position of Faculty Relocation Advisor was created in 2007, Jane Levin applied for, and got, the job. And just like that, she had something she could throw herself into once again.
It didn't take long for Levin to realize that many spouses were experiencing many of the same trials and tribulations she did upon first arriving in Montreal. "McGill had moved us to this new location. Our spouses were up and running in their new academic positions and quite busy in a very short time. But for us, once we were all moved in, the question became 'Now what?'"
In her official capacity, Levin is the resource person to field any number of questions asked by new arrivals. How do I find a doctor? How does the daycare system work? What paperwork is needed to bring my car here from the U.S.? How do I get a work permit? Where do I get snow tires? Big or small, Levin answers all inquiries, or at least puts people in contact with someone who can.
One of Levin's key functions remains helping find work for new arrivals. "This isn't the 1950s," she said. "Many partners are highly educated, but their credentials from another country may not apply here. They have goals and aspirations. And while they are willing to make a transition, they still need to feel valued. We prepare them so that they can find a meaningful job. Or, if they want to pursue their studies, we help steer them in the right direction."
Levin also introduces newcomers to various neighbourhoods around the city to help familiarize them with the Montreal's various residential areas.
And, of course, she's a social director and a matchmaker of friends of sorts. "Make one friend. That's my mantra," she said. "And do it before winter hits because that's the time of year you'll feel most lonely. People are more apt to take a yoga class with a friend or explore the underground city with a friend – it can open up a whole new world."
To that extent, Levin takes it upon herself to put newcomers in contact with each other if she senses they share some common ground. "I'll email two people and say 'I've met you both and I think you'll have fun. Why don't you meet for coffee and tell me how it went?' Most meet and often they do become friends."
Organized get-togethers also help create a social network and Levin smiles when recounting how some "classes" (as she calls each batch of new arrivals) have formed book clubs and dinner clubs. "One of the most rewarding parts of this job is watching people make such wonderful new lives for themselves here," said Levin. "Some show up feeling very isolated, hardly leaving their apartment at first. But a year later, they have a great job in a great city and all sorts of new friends. I know better than most because I've been in their shoes."