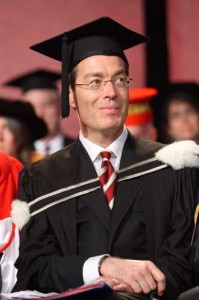 By Pascal Zamprelli
When the Reporter last spoke with Nicholas Kasirer a few weeks ago, as he was stepping down as Dean of McGill's Law Faculty, he told us that he wasn't sure what was in store for him next, but that perhaps it was time for something a little different

. Well, he found that something, or more accurately, it found him. Last week Canada's Minister of Justice announced that Prof. Kasirer was among the latest round of appointments to the province's highest court, the Court of Appeal of Québec.
Calling the appointment "recognition of his remarkable talent," Principal Heather Munroe-Blum noted that Prof. Kasirer "leaves an extraordinary legacy" after an outstanding 20-year career at McGill, and "will undoubtedly distinguish himself as an eminent member of the Canadian judiciary."
An expert in Quebec private law, comparative law, family property law, and law and language, Prof. Kasirer graduated from McGill Law, began teaching there in 1989, and directed the faculty's Quebec Research Centre for Private and Comparative Law from 1996 until taking over as Dean in 2003. He has won numerous awards for his teaching and research, and was elected Fellow of the Royal Society of Canada in 2008. 

But this latest honour may top all others, as the Court of Appeal represents Québec's legal pinnacle. Only the Supreme Court of Canada can overturn the decisions Kasirer and his colleagues will make (Though we see no reason why it would!)

.
Upon assuming his new role, Mr. Justice Kasirer is likely to see some familiar faces. He will be joining his former colleague Mr. Justice Yves-Marie Morissette, who also served as Dean and has been at the Court of Appeal since 2002, as well fellow McGill Law alumni Mr. Justice Joseph Robert Nuss and Mr. Justice Allan R. Hilton.
To borrow the words Prof. Kasirer has used so often himself to praise colleagues, students, and staff alike, Bravo mon cher Nicholas!