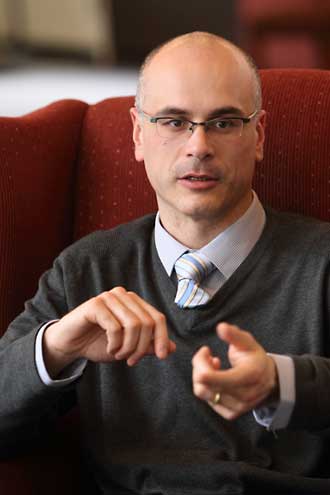 By Doug Sweet
What do food trucks, Première Moisson and MIT have in common?
They all have something to do with the big changes coming to the provision of food on campus over the coming year.
Food trucks, those long-desired harbingers of spring, have finally made their appearance on the downtown campus after winter's grudging departure. A truck or trucks will be stationed on the parking pad near the Roddick Gates, Monday through Friday, from 11 a.m. to 1 p.m. At least nine different trucks will be on hand during the summer to supplement food offerings on campus. (Meal Plan cards are not accepted at the trucks). You can get more information about the trucks at the Food Services website.
Première Moisson, one of Montreal's favourite bakeries, will open two outlets downtown, a full-sized store on the street-level floor of New Residence Hall on Park Ave., and a smaller, express outlet in the basement of Redpath Library. Famous for breads and pastries, Première Moisson also serves up sandwiches and other meals at various locations in Montreal. Look for them this fall.
MIT? That's one of the big U.S. universities serviced by a company called Bon Appetit, which will partner with Compass Group to be the new primary provider of food at McGill, starting June 1. Bon Appetit also operates more than 500 cafés in 32 states south of the border, including at Google, Yahoo, Johns Hopkins University and the University of Pennsylvania.
McGill will be the first Canadian location for the Compass/Bon Appetit partnership.
Compass (along with Bon Appetit) was the winning bidder in the provision of food services, now provided by Aramark, under terms of a contract that will soon come to an end. Chosen unanimously by the five staff and three students on the selection committee (a recommendation approved by the Board of Governors at its March 27 meeting), Compass beat out Aramark, which sought a renewal of its contract.
At Macdonald Campus, a smaller, family-run company has been found to supply food services, including catering, there. The company, HA(KIM)2, based in Montreal, intends to draw heavily on produce from the Mac farm, food from which will also continue to be part of the food chain downtown.
"We're very excited about having Compass and Bon Appetit coming to McGill," said Mathieu Laperle, Senior Director of Student Housing and Hospitality Services. "There will be more cooking from scratch, there will be a major renovation of the cafeteria at the McConnell Engineering Building, and the new providers, including Première Moisson, will be added to McGill's list of approved caterers."
In addition, Laperle said, Compass and Bon Appetit have a strong commitment to using as much local, fresh food as possible, something that weighed heavily with the student members of the selection committee.
"Freshness is something that's really important for us," he said.
The 100 to 150 staff who now work for Aramark will be invited to apply for jobs with Compass, Laperle said.
Other changes coming to the downtown campus include the replacement of the Sinfully Asian food outlet in the Bronfman building with a new enterprise. The goal is to try to maintain an Asian cuisine offering and, based on consultation with students, add a Mexican food outlet as well, Laperle said. Compass will also provide food at Athletics, in addition to all the other food outlets on campus.
Renovations and construction will affect the availability of food on the downtown campus, Laperle acknowledged. At the Law Faculty, for example, the extensive renovation of Chancellor Day Hall will see the food outlet shut down for a year to a year and a half. Similarly, the renovations at McConnell will mean a shutdown of the cafeteria for most of the summer starting Monday, May 26. Sinfully Asian is already closed and awaiting renovation.
Those food trucks are likely to be busy this summer.