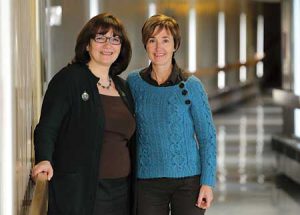 Research project to make commercial centres more accessible for the elderly and the disabled
By Katherine Gombay
The female computer voice offers carefully modulated instructions. "Turn left after exiting the second set of doors and then trail the left side wall. That wall will turn to the right for 10 feet and then to the left for 15 feet. " These directions, from a downloadable recording designed to help guide blind people through a shopping centre in Roseville, Minnesota, offer a glimpse into the world of the disabled. Soon something similar will exist for Montreal's Place Alexis Nihon. That's because over the next four years, the owners of the mall have agreed to let it become a living lab to test ten pilot projects designed to make the shopping space more accessible and welcoming to both the elderly and to people with disabilities of all kinds.
The mall as living lab project (MALL) is the brainchild of Drs. Eva Kehayia, from McGill's School of Physical and Occupational Therapy, and of Dr. Bonnie Swaine, a professor from l'Université de Montréal's École de Réadaptation. They are also scientific directors at the Centre for Interdisciplinary Research in Rehabilitation (CRIR). They, together with their CRIR co-researchers and collaborators, realized that despite the fact that patients get retraining in how to navigate public spaces following an accident, once they are on their own many find it challenging to do so and become increasingly isolated. The same is true for both the elderly and for those with a variety of disabilities.
But something as simple as a change in wall colour can make a space more welcoming for the elderly and the visually impaired. "After age sixty we don't see blue as well we used to," explains Kehayia, "and glass stairs, which you see in some places, are difficult for people with visual disabilities to see clearly." The international multidisciplinary group of CRIR researchers who are part of the project are likely to recommend changes to the mall owners that range from simple things like changing wall colour to more substantial transformations possibly to the surfaces of walls and floors, as well as adding ramps and widening corridors so that people in wheelchairs and mothers with strollers will be able to move about the space more freely. "It's about feeling welcomed by the space itself," says Kehayia.
The researchers will also be testing various devices to see how they correspond to the needs of the elderly and the disabled in this setting. These range from a "smart" wheelchair, able to recognize vocal commands, to talking signs and a virtual supermarket. But fully half the research in Place Alexis Nihon will focus on something that is far more nebulous, but just as important – making the elderly and the disabled feel at home. Kehayia explains, "It's not only about making sure that there are changing rooms that can fit in a wheelchair, it's also about training the people in shops in how to welcome elderly and disabled people, so that they can feel 'this is an ok place for me to go, I do not feel excluded.'"
Because the owners of Place Alexis Nihon have been willing to embrace this experiment in accessibility this shopping centre is likely to become a much more welcoming place for all sorts of people, not just the disabled and the elderly.