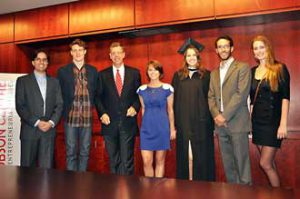 TVMcGill cooking-show duo wins second annual contest for budding McGill entrepreneurs
By Chris Chipello
Amanda Garbutt and April Engelberg have already made a splash on campus with their student-friendly cooking show, The Hot Plate, on TV McGill.
Now, just as they turn the page on their undergraduate years, these two Arts students have taken a big step toward parlaying their spare-time cooking production into a full-time start-up business. They are the winners of the second annual Dobson Cup, a competition hosted by the Dobson Centre for Entrepreneurial Studies at the Desautels Faculty of Management. The Dobson Cup encourages budding entrepreneurs from the McGill community to showcase their business ideas and not-for-profit plans.
The Hot Plate won out in a field of nearly 37 submissions from more than 70 students and several alumni – nearly doubling last year's total entrants. Two-thirds of participants this year were from outside the Desautels Faculty of Management, with McGill Engineering, Law, Music and Science all represented.
At the end of a process involving three written submissions and two live pitches over a period of months, finalists whose concepts were judged to be the most innovative and promising were awarded a total of more than $15,000 in prize money, including $5,000 for the first prize. Each of the 11 final groups also benefited from the constructive feedback of 10 experienced judges, who provided advice on how to turn business proposals into successful ventures. A mentorship program matching judges and finalists was also launched to provide ongoing assistance to the nascent start-ups going forward.
The Dobson Cup competition is about "trolling for entrepreneurs in the McGill community….they are everywhere!" said Dobson Centre Director, Professor Gregory Vit. "We're delighted to be helping emerging grassroots start-up initiatives across McGill University."
The Hot Plate co-producers embody qualities crucial to any successful start-up: passion, energy, and an innovative "scalable" approach to filling a market niche.
In the final round of presentations to the panel of judges at the Desautels Faculty of Management on May 27, Garbutt, who hosts and co-produces the show, and Engelberg, creator and co-producer, outlined plans to churn out 30 five-minute episodes of the show per year. Each episode will cover one of the simple, affordable recipes from a cookbook the pair plans to publish in August.
Engelberg, an English major from Toronto, and Garbutt, a Sociology major from Ottawa, met at their first-year residence at McGill. Engelberg came up with the idea for the show after she and other friends were impressed with Garbutt's cooking. Many of them would ask Garbutt for suggestions. "Amanda loves cooking," Engelberg said in an interview this week. "Her whole life is based around cooking. We'll be eating lunch, and she's already thinking about what we'll have for supper."
One evening at dinner, "it just dawned on me that she should be a TV chef," said Engelberg, who minored in communications and has done internships at CNN in New York and Al Jazeera English in Washington. Earlier this year they launched their website, www.thehotplate.net, and a Facebook fan page.
Garbutt and Engelberg now have their sights set on pursuing The Hot Plate full-time. "We decided a couple of months ago that everything was going so well and we were having so much fun with it, it would be foolish not to go ahead," Engelberg said. They intend to continue distributing the show virally, and are planning a tour of other Canadian campuses.
Winning the Dobson Cup 2010 "means a lot to us," Engelberg added. "We're beyond ecstatic." The prize money will help cover start-up expenses, and the pair has benefited from advice provided generously by the "great panel of judges."
Second place in the 2010 Dobson Cup contest went to Woodstream, a startup firm that plans to manufacture and sell high-performance wood-plastic composites for injection moulding. The materials are made out of scrap wood and recycled plastic, making the composites a sustainable and viable alternative to oil-based plastics for a wide variety of products. CEO Julian Ilson is a Desautels alumnus.
The third-place winner, BestSPEC, aims to integrate robotics into the inspection and maintenance of wind-turbine structures. The team of two McGill engineering students, Marc Lallemand and Vahid Mirjalili, is in the prototype phase for a robotic inspection tool capable of locating and photographing damage on a wind-turbine blade, with significantly lower risks and costs compared to currently available solutions.
The Dobson Cup's early success has attracted the active involvement of sponsors, including the Business Development Bank of Canada. "We look forward to working with outside partners to help aspiring McGill entrepreneurs launch successful and thriving ventures for years to come," Prof. Vit said.
For more information, visit: http://dobson.mcgill.ca/