From a single room on McGill's downtown campus, a team of five technicians controls the physical comfort levels of nearly everyone on campus. McGill's building automation system allows them to control all heating, ventilation and air-conditioning (HVAC) systems remotely.
Each sector of campus is displayed on one of the four large screens on the wall. From their desktop the technicians can go and look at each room of every McGill-owned building, check the temperature, compare it against the one the occupant expects, and adjust it, if needed.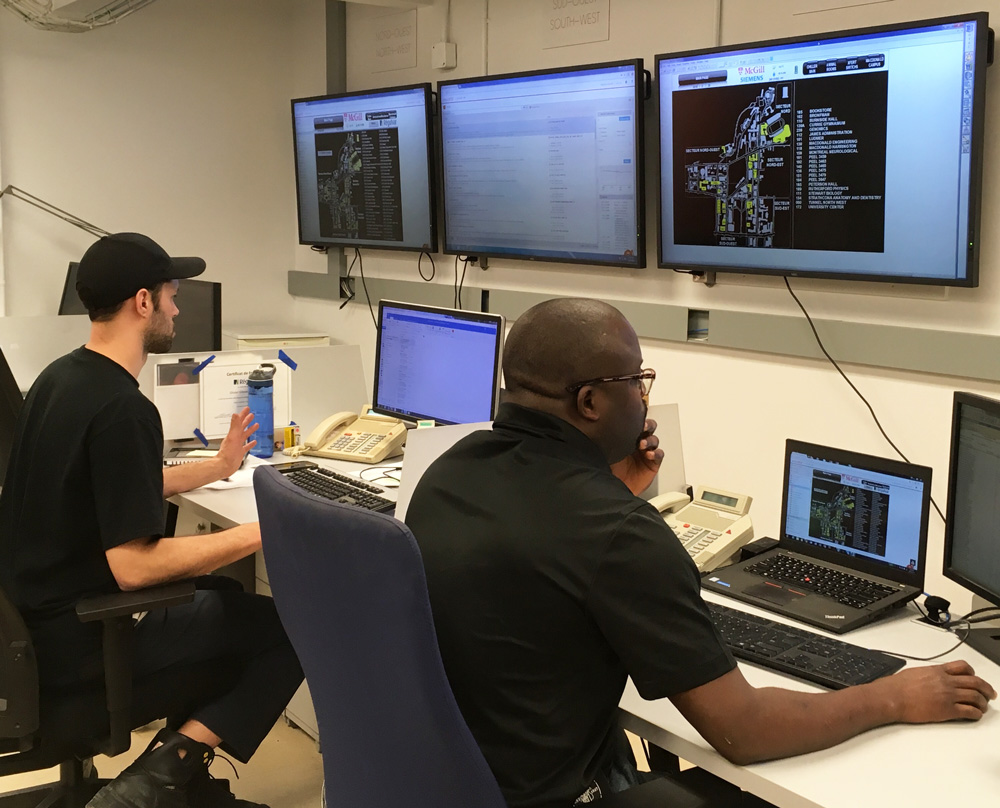 The system also monitors the air quality, the pressure and humidity levels. "Some of these metrics are critical in certain spaces, the air pressure in certain labs, for example, or the humidity levels in the spaces that house the Library's Rare Books or the Schulich School's pianos," says Dominic Gagnon, HVAC Manager, Building Operations, at Facilities Management and Ancillary Services.
As one of the largest real estate owners on the island of Montreal, McGill's automated system for HVAC control is arguably one of the largest. The technicians check all the HVAC systems weekly and most of the larger ones or more critical ones – large classrooms and buildings, labs – daily, in addition to looking into problems reported by users.
If the problem is deemed to be caused by a defective part, then the building operators – who look after the maintenance of the systems – take over.
Calls may sometimes be related to space that is too warm or too cold around what we call the "shoulder season," at the end of fall and the start of spring, when McGill switches from heating its buildings to cooling them, or vice versa. The systems can't do both simultaneously at the moment, but that should change in most McGill buildings with the implementation of heat recovery loops (see article on "smart energy grids").
"Different buildings will be able to share their heating or cooling capacity with one another. None of this would be possible without the automation system," Gagnon says.