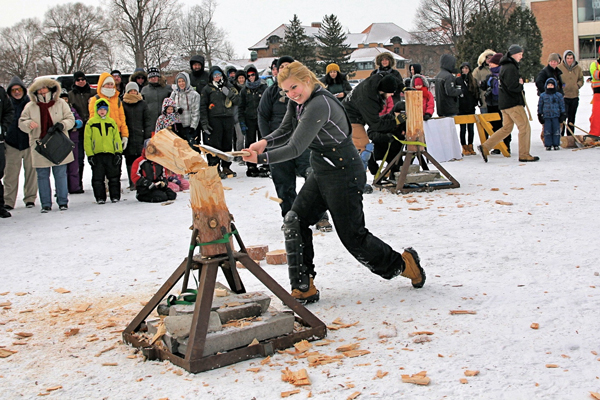 By McGill Reporter Staff
On Saturday, Jan. 25, lumberjacks and Jills from eight universities in Eastern Canada and the United States rolled up their sleeves for some friendly competition at the 54th annual Intercollegiate Woodsmen Competition. As per tradition, the event was hosted by Macdonald Campus.
Over 100 competitors braved the frigid winds whipping up from the frozen waterfront to vie for individual, doubles and team honours in traditional woodsmen events that included axe throwing, log rolling, pole climbing, water boil, snowshoe race and any number of wood cutting disciplines.
When the wood chips settled on the men's side, University of New Brunswick 1 emerged victorious out of 11 teams, with McGill 1 finishing fourth overall. McGill 1 won two events; the Super Swede Saw, and Team Super Swede Saw. McGill 2 won the Snowshoe.
On the women's side, Sir Sanford Flemming College proved to be a cut above the rest of the seven-team field, taking the overall team title. McGill's women finished a solid fourth, winning the Snowshoe, Super Swede Saw, Water Boil, and Cross Cut Saw events along the way.
Click on each picture in the gallery below to view a larger version. All photos by Neale McDevitt