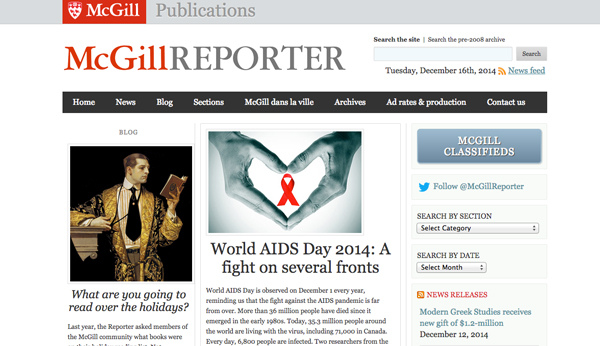 With 2014 drawing to a close we're entering the time of year when everyone is compiling their respective year-end lists. The McGill Reporter is no exception.
Because our journal is primarily online, we're able to gather data on everything from how many people read an article, to how long they stayed, to where in the world they were when they clicked on one of our stories.
And yes, we know whether you've been naughty or nice.
2013 was a pretty good year for us in terms of readers, as we had more than 581,000 page views. With two weeks to go in 2014, we're on pace to edge past that lofty number by a couple of thousand page views.
The Top 10 countries in terms of Reporter sessions (which may include reading several articles in one sitting), isn't that surprising. Of the 424,000 Reporter sessions this year, the following countries led the way: Canada (with 311,446 sessions), the United States (60,675), the United Kingdom (6,659), France (4,221), India (3,450), Australia (2,453), Germany (2,190), China (2,109), Italy (1,176) and Japan (1,152).
True to McGill's reputation as one of Canada's most international schools, we attracted readers from 216 countries (compared with 213 last year), from Azerbaijan to Zambia and from Antigua & Barbuda to Zimbabwe. And while most of our readers came from larger, well-known countries, we also had people logging onto our site from tiny enclaves like St. Barthélemy (population 9,000), Sint Maarten (population 37,000) and the Åland Islands (28,000 people spread out among 6,700+ islands between Sweden and Finland). Needless to say, we've come a long way since 2012, our last year as a primarily print newspaper that had a print run of 7,500 papers per issue that was found mostly in newsstands around campus.
We're particularly pleased at being on track to pass last year's numbers without benefitting from the hugely popular stories that marked 2013. In particular, the massive flood in January 2013 drew a record-setting 100,000 page views that month, including a whopping 35,000 in one day. That was topped only by the article we ran in June on a revolutionary new 3D digital brain atlas that pulled in almost 45,000 page views all by itself.
In comparison, the biggest month for us in 2014, was June (67,000+ page views) and the top story, Spring Convocation in pictures, tallied a mere 13,000+ page views. Sometimes slow but steady really does win the race.
We've compiled a year-end Top 10 list of most-viewed Reporter stories that you can see below. The stories run the gamut from a pair of Convocation stories and the recollections of his time at McGill by Nobel Prize winner John O'Keefe; to the untimely death of Ellen Aitken, Dean of the Faculty of Religious Studies and the Green Party's Elizabeth May's bold assertion that Canadians are living in a dictatorship. The eclectic nature of the list points to the incredible scope of interest and activity of the McGill community.
1. Our most viewed story was Spring 2014 Convocation in pictures – proof positive that everyone loves a good photo gallery. To date, the gallery has been viewed 13,489 times.
2. Odds that global warming is due to natural factors: slim to none. The polarizing subject of global warming drew 12,606 page views and was easily our most commented-upon article.
3. Ellen Aitken loses battle with cancer, later updated to Tony Blair adds tribute to Ellen Aitken. News that Aitken, Dean of the Faculty of Religious Studies died following a short battle with a very aggressive form of cancer rocked the McGill community. The story was viewed 11,227 times and elicited an outpouring of touching tributes in the comments section.
4. Nobel winner has very fond memories of McGill. In an exclusive interview with the Reporter, John O'Keefe, the co-winner of the 2014 Nobel Prize in Medicine, remembered his time at McGill as being "incredibly exciting." The interview excited enough people to garner 9,718 page views.
5. Storm forces evacuation of Arts Convocation (the headline was subsequently changed several times with each update). Mother Nature can be pretty tough on tents. The article drew some 9,657 page views.
6. Two more for the Rhodes from McGill. The interview with McGill's two newest Rhodes Scholars was viewed 9,311 times.
7. "It's arguable that we now live in a dictatorship, punctuated by manipulated elections," says Elizabeth May. And with those controversial words in advance of her March lecture at McGill, Green Party leader Elizabeth May drew 7,978 page views.
8. Fourteen individuals to receive honorary degree from McGill. Photo galleries and Hon Docs – everybody loves them. 7,928 page views for this one.
9. McGill maintains Top-25 place in QS rankings. For the 11th year in a row, McGill was ranked in the top 25 universities worldwide by Quacquarelli Symonds. McGillians like rankings stories – especially when it is good news for McGill. The story was viewed some 6,426 times.
10. Rosalind Goodman loses battle with cancer. McGill mourned the passing of Rosalind Goodman, devoted alumna, generous philanthropist and tireless volunteer. The article was viewed 5,859 times.