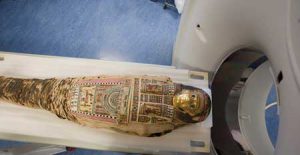 By Neale McDevitt
She is a Theban mummy brought to Montreal in 1859 by James Ferrier, former mayor of Montreal and member of McGill's Board of Governors. Ferrier bought her, and the male Theban mummy on display beside her, at an antiquity market in Egypt. She is old, very old. That's the story told by her worn teeth and by the white of what little hair remains on her head. She lived into her 90s – a rare enough occurrence today, at the height of civilization's powers to keep people alive. But what about more than 3,000 years ago, when life expectancy was not much more than 40? How did she live that long, I wonder? She was lucky, to be sure. Lucky either to be born a person of status who was pampered to a long life or to be a commoner born of exceedingly sturdy stock. But the arthritic warp of her bones discovered in a 1979 X-ray also tell us that luck can be a double-edged sword with which longevity is marked by chronic pain.
****
It is Friday morning – the day most people take their foot off the pedal to coast into the weekend – and Barbara Lawson is nervous. Very nervous.
Today is moving day – a daunting prospect at best, but doubly so for Lawson, the Ethnology Curator of the Redpath Museum, who will oversee the packing up and transportation of the Museum's three human mummies – and six of its mummified birds – for a road trip to the Montreal Neurological Institute (MNI).
As a museum curator, her default settings are preservation protection. Moving 3,500-year-old human remains is counterintuitive to her most fundamental professional instincts. "The mummies are fragile and moving them entails a certain degree of risk which is why we have to be prepared for any eventuality," said Lawson, who gains some measure of relief that outside it is windless, dry and mild. "Inclement weather would have made this more complicated."
Lawson is overriding her protective instincts because the Redpath is participating in the IMPACT (Internet Mummy Picture Archive and Communication Technology) project which seeks to move mummy studies from individual case studies to a broadly based comparative approach by creating a collaborative database of mummy CT scans collected from museums throughout the world. The project's principal investigator is Andrew Nelson, of the University of Western Ontario, working closely with PhD candidate Andrew Wade.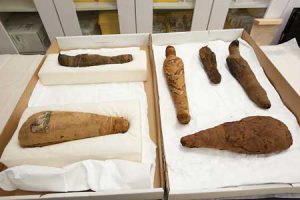 "In this particular project we are seeking to better understand these three mummies as the people they once were, to tell the story of their lives from their bones – their osteobiographies – as a means to bring them to life," said Nelson. "For years mummies were studied by means of an autopsy – very informative, but very destructive. The CT scanner allows us to undertake a virtual dissection – yielding huge amounts of information, but also leaving the mummy intact for future people to see and to analyze in ways we can't yet imagine."
****
Hers must be a sadder story, or so I surmise after reading that the Redpath's Ptolemaic mummy may have been as young as 20 when she died. A 1979 X-ray revealed normal bone formations and exceedingly strong and healthy teeth. The ornamentation on the mask covering her head also suggests she was a woman of some status. Sudden illness? Complications during childbirth? Again, I find myself wanting to know more about how she lived and why she died when she was seemingly so strong. This curiosity is only compounded when I read that the old X-ray also discovered a mysterious oval object between her legs – a papyrus roll outlining her family history or just a roll of wadded up linen to help maintain the shape of a body deflated of life?
****
It is Saturday and the three human mummies and six bird mummies are scanned without incident. The process to place each mummy in position on the MNI's state-of-the-art Toshiba Aquilon One CT scanner takes significantly longer than the actual scan itself which lasts less than 90 seconds. The 6,000 imaging "slices" give researchers unbelievably clear and complete pictures of each mummy.
Dr. Donatella Tampieri, Director of the MNI's Department of Neuroradiology, oversees operations, fascinated by the contrast laid out before her. "It is incredible to see the richness of the University in that it spans artifacts that are more than 3,000 years old to the world's most advanced imaging techniques," she said.
Tampieri is somewhat disappointed to learn the mummies' brains had all been removed as part of the mummification process ("I'm a neuroradiologist, so the first thing I want to see is the brain") but was interested to find out that the technique used by ancient Egyptians to remove the brain – going in through the base of the skull through the nose – is very similar to methods used by modern surgeons for some procedures.
****
At 1.56 metres, he is small. His head was unwrapped in the 19th century, revealing a blackened, understandably angular face and a head topped with reddish-brown hair. He was decidedly less lucky than his contemporary; Ferrier's female Theban mummy – and his bones tell the tale of that misfortune. A CT scan in 1995 revealed an abscessed tooth that caused his jaw to erode. The ensuing infection may very well have killed him. Dead at the age of 30 because of a toothache, I muse. Now that's a hard-luck story.
****
Two days later, Barbara Lawson says the scans offered a surprise (one of the falcon mummies has no head underneath its head-shaped wrappings), clarified one mystery (the mass between the Ptolemaic mummy's legs is just balled up linen), and has opened the door for a myriad of analyses over the coming years and decades. "But this is just the beginning," she says. "This is the tool to help answer all sorts of questions – not just for today's researchers but for future researchers as well.
"The data is all there and it means the mummies can stay put now," she say. "That's a good thing."
It's Monday, the mummies are back home at the Redpath and all is right in the world.