By McGill Reporter Staff
Although Norman Rockwell passed away more than three decades ago, it almost seemed like he had a hand in planning McGill's 24th Annual Holiday Skating Party, held this past Sunday. Smiling children zipping around the rink with their parents? Check. Carolers serenading people with classic seasonal melodies? Check? Chestnuts roasting on an open fire? Check. Santa Claus handing out goodies to children? Check. A good time had by all? Check.
Once again, Principal Heather Munroe-Blum hosted the event, held at the McConnell
Winter Arena. In all, more than 760 McGillians and their family members took part in the afternoon festivities, making it one of the busiest skating parties ever.
Guests were greeted by the festive sounds of Tonal Ecstacy, one of the University's three a cappella student groups, and were invited to have fun on the McConnell rink, home of the University's very successful men's and women's hockey teams. Hot dogs, snacks and hot chocolate were provided for skaters who had worked up an appetite.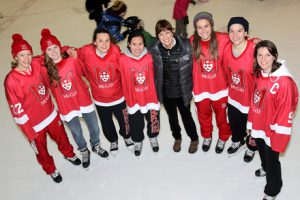 Capping off the day in the spirit of the season, guests were encouraged to donate to the Yellow Door's 'Food for Thought' Program by leaving non-perishable goods in one of the food boxes found throughout the Arena.