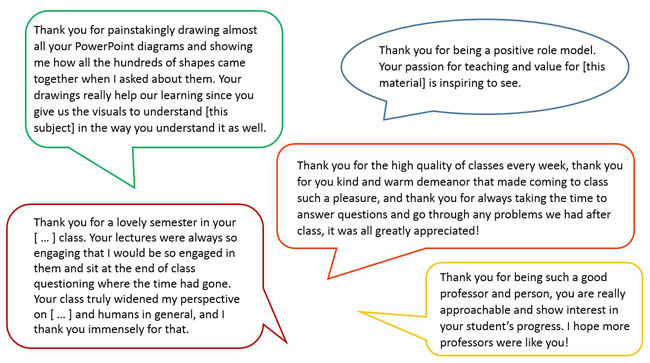 We've all had a teacher who have had a big impact on us. Maybe it was a great class, a letter of recommendation, a thought-provoking suggestion or an inspiring insight.
Now there's a platform students can use to say thank you.
Thank a Prof is designed to recognize actions, small and large, that have a positive impact on students' lives. It also helps to promote a sense of community around teaching and learning.
"Thank a Prof is different from MERCURY end-of-course evaluations because those evaluations have a defined start and end date," says Justin Fletcher, Learning Technology Consultant, Teaching and Learning Services.  "Students may not realize just how much they appreciate what a professor has done for them until well after their interactions with them. For example, several students mention in their comments that they did not realize how much they had learned until much later in their studies."
Alumni can participate in the Thank a Prof program since they keep their McGill credentials after graduation.
Students get a reminder about this program via what'snew@mcgill for students, and student association leaders are encouraged to share information about the program with students. This year the Dean of Students Chris Buddle featured Thank a Prof in the Dean's Corner, resulting in a large spike in submissions.
"A representative from Teaching and Learning Services reviews all of the submissions to ensure that student names are not included in the thank you message," explains Fletcher. "The messages respect the positive nature of the initiative. So far we have not had to exclude any submissions."
After the submissions are reviewed, thanked profs receive an email with a PDF that explains the initiative and includes the thank-you message from the student – a welcome surprise for many professors.
Below are some sample comments from professors who received a thank you:
"Thank you for informing me of this and for providing a platform for the teaching faculty to be recognized. I really appreciate this, and is a boost of confidence and recognition of my efforts in and outside the classroom."
"This made my day. Thank you for putting a bigger smile on my face."
"Thank you, this makes the job so rewarding to know someone cares."
"What a beautiful initiative and such an unexpected gift. Thank you so much."
See a list of thanked profs from 2016-2017 and 2017-2018, and access a submission form online