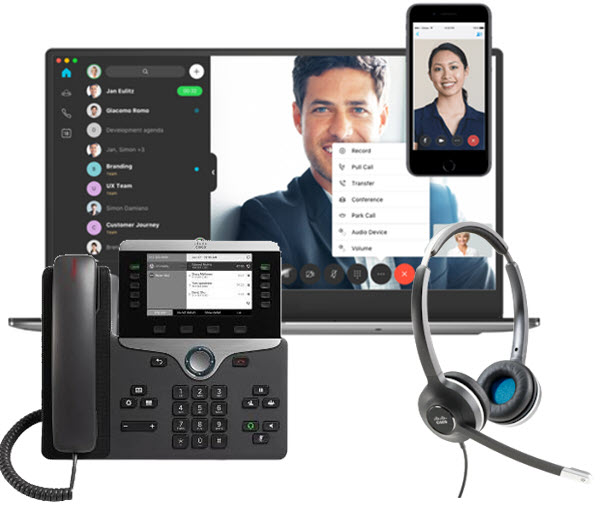 Did you know, most departments at McGill are still using the phone system that was installed in 1986?  Yes, that's over 35 years ago!
After years of gathering requirements across the University, and a public Call for Tender, McGill's IT Serives has selected an Internet-based (VOIP) phone service from Cisco. The new service introduces the Cisco Webex app, to be used as a "softphone," allowing you the freedom and flexibility to make and receive phone calls from any computer, laptop, or mobile device… from the office, working at home, or in transit… anywhere you're working.
For those who receive frequent phone calls, work in a reception area, or prefer to have a desk phone, there will also be the option for a physical desk phone.
Complement to existing tools
The new telephone system and introduction of the Webex softphone is not meant to change the way McGill employees communicate and collaborate with each other. During the pandemic, while working from home, McGillians quickly adapted to using Microsoft Teams and other Microsoft 365 apps to conduct online meetings, chat with teammates, and share and collaborate on files. IT Services will continue to promote these apps when dealing with internal colleagues. However, when you need to call someone outside McGill, such as when you're recruiting new students or professors, reaching out to alumni, or contacting vendors, that's where the Cisco telephone system can fill the gap. The Webex softphone allows you to seamlessly conduct work activities whether in the office or working remotely.
"The new telephone system could not be coming at a better time," says Marc Denoncourt, Chief Information Officer. "It will help McGill faculty and staff members adapt to today's hybrid work environment, allowing their McGill phone to be accessible from virtually anywhere. This investment is very much aligned with our Digital Strategy, part of our 2020-2025 IT Strategic Plan, and shows how serious we are about improving the digital experience for faculty and staff."
Benefits and features
Using McGill's new Internet-based (VOIP) phone service, you'll be able to:
Make and answer McGill phone calls from home or anywhere with an internet-connection.
Keep your McGill phone number in most cases (extensions will be replaced by direct dial 10-digit numbers). Your McGill phone number will also follow you, like an email address, even if you move to another department.
Never miss a call: forward calls, or use the "Single number reach" feature to designate your home or other phone numbers to ring during a specified schedule.
Make free long distance calls throughout Canada and the United States. International overseas calling can also be requested at no additional cost.
Easily put calls on hold, transfer to another party, and add multiple participants
Add your own contacts and groups to manage them.
Share lines to allow multiple users to answer departmental numbers.
No monthly billing to the department/unit.
Request advanced features (chargeable services), such as:
Interactive voice menus, to triage calls for various departmental services (e.g. "Press 1 for sales, 2 for support"…)
Hunt Groups, where incoming calls are routed first to one number, then another, in succession, until the call is answered.
Project timeline and schedule of migrations
In May 2021, IT Services launched a call for early adopters who were willing to use the softphone only. Over that summer and into the fall, IT Services migrated a few hundred faculty and staff members from several units across the University to the Webex softphone solution.
To date they have migrated several departments/units, including University Advancement, Procurement and Financial Services, Family Medicine, New Model of Work, Provost and VP Academic, School of Social Work, Office of Sponsored Research, Student Wellness Hub, and IT Services.
IT Services is now planning migrations in a building-by-building progression, beginning with those that have been upgraded to the new network infrastructure. As they identify each building to be upgraded, they will collaborate with the building director and telephone coordinators, who will act as liaisons to the project team, identifying the units and employees impacted, and collecting details about the phones, features, and preferences for type of phone experience (i.e., physical phone vs.  softphone-only with headset.)
By the end of the project, IT Services will have replaced more than 10,000 phones in 180 buildings on McGill's downtown and Macdonald campuses. This ambitious, large-scale project is expected to be completed around December 2023.
Find out which buildings will be next on the schedule page of the Telephone Evolution Project website.
Want to know more? Visit the Telephone Evolution Project website for FAQs, videos and learning resources.