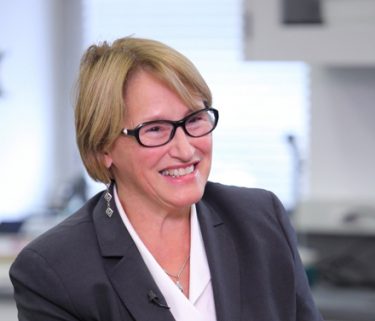 By McGill Reporter Staff
At the May 25, 2017, meeting of the Board of Governors, Suzanne Fortier was appointed to a second five-year term as Principal and Vice-Chancellor. The appointment came on the recommendation of the Advisory Committee on the Reappointment of the Principal. Principal Fortier's second term will begin on July 1, 2018.
Board Chair Stuart H. "Kip" Cobbett, made the news public in a message to the McGill community issued on Friday, May 26.
"As outgoing Board Chair, I am delighted to be able to share this news, knowing the University will be in good hands for many years to come," Cobbett said in his message. "Please join me in thanking Professor Fortier for all she has done for McGill to date, in congratulating her on her reappointment, and in wishing her all the best as she prepares for a future that includes McGill's 200th birthday!"
Suzanne Fortier became Principal in September 2013. A McGill alumna, she was the unanimous choice of the Board of Governors to succeed Heather Munroe-Blum and become McGill's 17th Principal and Vice-Chancellor.
Principal Fortier began her role as Principal by engaging the McGill community in a series of consultations, which she used to inform the five priorities that have been the backbone of her vision to build "a more open, connected, and purposeful university."
Professor Fortier is a vocal proponent for the creation of rich learning environments that engage McGill students in actively putting their knowledge to work. A major initiative, the McGill Commitment, has increased the number of outside-the-classroom active learning opportunities, such as research internships, co-op placements, international exchanges and community engagement projects.
Under the Principal's leadership, the University has continued to advance its record of research excellence by nurturing an environment that encourages curiosity and game-changing questions in all areas of research and scholarship, from public policy, to music, sustainability and the study of the human brain. Last fall, for example, the University's Healthy Brains for Healthy Lives project was selected as one of the winning initiatives in the Canada First Research Excellence Fund. It also launched the Tannenbaum Open Science Institute. These initiatives build on our neuroscience strengths and contribute to making McGill a global hub for easing the burden of neurological and mental-health disorders.
McGill has enjoyed tremendous support from its alumni and friends, and generous philanthropic investments, making it possible for the University to attract and retain top students and professors from around the world, pursue ground-breaking research and innovative local and global community initiatives.
McGill is ranked consistently among the best universities in the world, and is Canada's top medical-doctoral university. The University's reputation for excellence earned it a place in the prestigious Global University Leaders Forum, the World Economic Forum's group of 26 top universities worldwide. While McGill is Canada's most international university, it is also deeply proud of the partnerships and connections it has built with communities close to home. Professor Fortier has worked closely with key organizations to raise awareness about economic and social issues, such as the recruitment and retention of talent, and develop strategies that can have a significant impact on Montreal, Quebec and Canada.
Our campuses are transforming as McGill builds an environment that is sustainable, accessible, state-of-the-art and healthy. Just recently the Board of Governors' stewardship role has been expanded to include sustainability. In 2015, Professor Fortier launched the Principal's Task Force on the Academic Vision and Mission of the Royal Victoria Hospital Site, which has articulated an exciting academic plan for the redevelopment of this historic landmark. Sustainability science systems and public policy, and their interaction, are the focus of this innovative future new neighbourhood of McGill's downtown campus.
Over the years, Professor Fortier's academic and scientific leadership has been acknowledged with awards and recognitions. The most important awards for Professor Fortier, though, are the numerous prizes, scholarships, and memberships to prestigious societies earned by McGill students, employees and alumni.
"I have the privilege of being part of a great University and a community whose drive, talent and engagement are the foundation that makes McGill an open, connected and purposeful university," she said upon her reappointment. "Together, we will hold fast to our strengths, embrace change and contribute to building a better future for our community, country and the world. I am thrilled to be part of this journey."