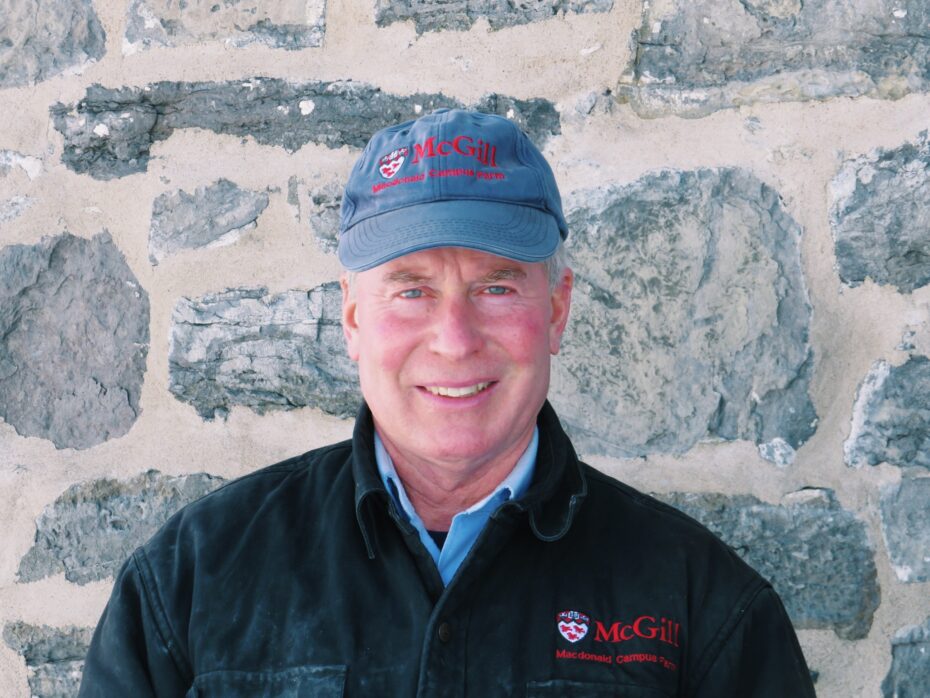 Paul Meldrum is no doubt a busy man. From establishing a dairy farm from the ground up to working as an agricultural journalist with CBC and CTV, he has been involved in both telling the stories and improving the mechanics of our food systems.
As the current General Manager of the Macdonald Campus Farm, Meldrum's diverse farm-centered life skills have been integral to sustainability initiatives at Mac Campus and beyond, including McGill Feeding McGill, the Macdonald Student-run Ecological Gardens (MSEG), and dozens of Sustainability Projects Fund (SPF) initiatives. McGill's SPF is the largest fund of its kind in Canada with a mandate to build a culture of sustainability on McGill campuses through the development and seed-funding of interdisciplinary projects.
During a sit-down with the Office of Sustainability, Meldrum shares the challenges and triumphs in running a university farm, and his take on the future of sustainable food.
Why do you think that having the farm as a part of a learning institution is important for students?
McGill is [one of the few] universities in Canada that has a farm right on campus. Other universities have farms, but the Mac farm is so close that students can walk directly from campus or take the bus from downtown right to the fields. This allows for a unique hands-on experience and the opportunity for part-time jobs working at the Horticulture Centre and in the Dairy.
Having the farm as a learning space helps students bridge the gap between idealism and reality. To be able to see what the farm can logistically do really helps ground big ideas and make them doable. That's not to say you can't constantly improve – you can, and you should. It's a place for students to get to put the theory they're learning into practice.  They get to learn in a new way and ask different questions that might not come up unless you're right there. I think it's an educational laboratory that you just cannot replicate in a classroom.
A few months ago, we spoke to former Executive Chef Oliver De Volpi about McGill Feeding McGill from the kitchen's end, but what is it like from the perspective of the farm?
McGill has a farm that produces very high-quality food, so why wouldn't we feed our students what we produce? We could ship fresh produce to a central warehouse and then a distributor only to be trucked back to campus, or we could take it straight from the farm to our plates. It just makes sense, for the environment and for our community.
Knowing who produces your food and trying to cut down the amount of transportation on food isn't always possible – the sheer volume of food needed to feed large metropolitan areas does not always allow for this. But there are opportunities to market directly to our customers, such as what we are doing with McGill Feeding McGill and what MSEG is doing with their student-run market garden. If we can provide fresh food at a competitive price and reduce the cost and effect of transportation and storage, why wouldn't we do it?
And for us, knowing that what we are producing is being eaten by our students and being appreciated adds so much pride to our work as farmers. I have always been very cognizant of the fact that what I'm producing is going to go into someone's body, so we are extremely scrupulous about the quality of the vegetables, eggs, milk, and meat that we produce on the Macdonald Campus Farm.
You have transformed the farm from not only a place to learn, but a crucial part of McGill's sustainability community. Why has this been a priority for you?
The SPF was started by [students], and I don't think any of us really realized how big it would become at the time. It was the beginning of opportunities for change that just weren't possible before.
For me, sustainability is two-fold; first, making sure our resources are going to be there forever. I believe you need to leave the world a better place than you found it and to treat your environment with respect, because it's up to us to make sure that it's there for the future.  But the second part of this is that is has to be economically sustainable. If farmers don't get enough return from the sale of their produce to pay for sustainable methods, they can't stay in business.
I've been very fortunate to have some incredibly bright, forward-thinking ideas come to the farm. And why wouldn't I support that? If we can do it and it's going to make our campus better, it's going to make our world better. If it's going to provide learning opportunities for students, if it's going to improve our natural environment, then it's a no-brainer for me.
Of course, it is extra work, it means more hours but I'm a farmer, so I am used to working lots of hours. If it is worthwhile and it is successful, you can't put a dollar value on the satisfaction you get from that. I'm very fortunate that I'm in a position where I can support this as the manager.
Sustainability is an important part of what I believe in on the farm, and it is important in the teaching that happens here as well.
What are some challenges that you believe lie ahead for agriculture in general?
One of the challenges I think we're facing on a broader scale is how removed people have become from where their food comes from.
We have high-quality food in abundance. We never go without. But when you're growing it, you've got the challenge of weather, pests, weeds, markets. You need to know proper techniques for soil fertility, choose the right varieties, and crop rotations. None of us think about these things when we go to the grocery store. This can make it easier for people to start criticizing how food is produced and not understand the point of view of the farmers.
That's why I think the new engagement centre we are building at Mac is so exciting and so important. We'll be able to bring kids in and show them where their food comes from; they'll be able to take vegetables from the ground and see before their eyes how they are transformed into a meal, and they will see first-hand how milk comes from a cow and not a carton! This can help build that connection so many of us are missing.
What do you want the McGill community to know about the future of sustainability and agriculture?
The two are compatible and not mutually exclusive. That means we have to make sure that when we do demand more sustainable practices in agriculture, we don't make it impossible for the farmers to adopt those practices. We need good dialogue and an intelligent level of understanding of what it takes to produce food. Changes need to be implemented in a fashion where that is still possible. There are a lot of things we can live without, but food is not one of them, so it needs to be a priority.
The other thing I want to say is that most of us are just average people living average lives. But within those average lives, we have opportunities to make significant differences a little bit at a time. We just have to do the small things that will make our world a better place for future generations.
I guess that's what sustainability is all about: Make sure you have your eyes open to the world around you, and that you're constantly asking yourself, "How can I act in ways that are sustainable – not just for me – but for generations to come?"