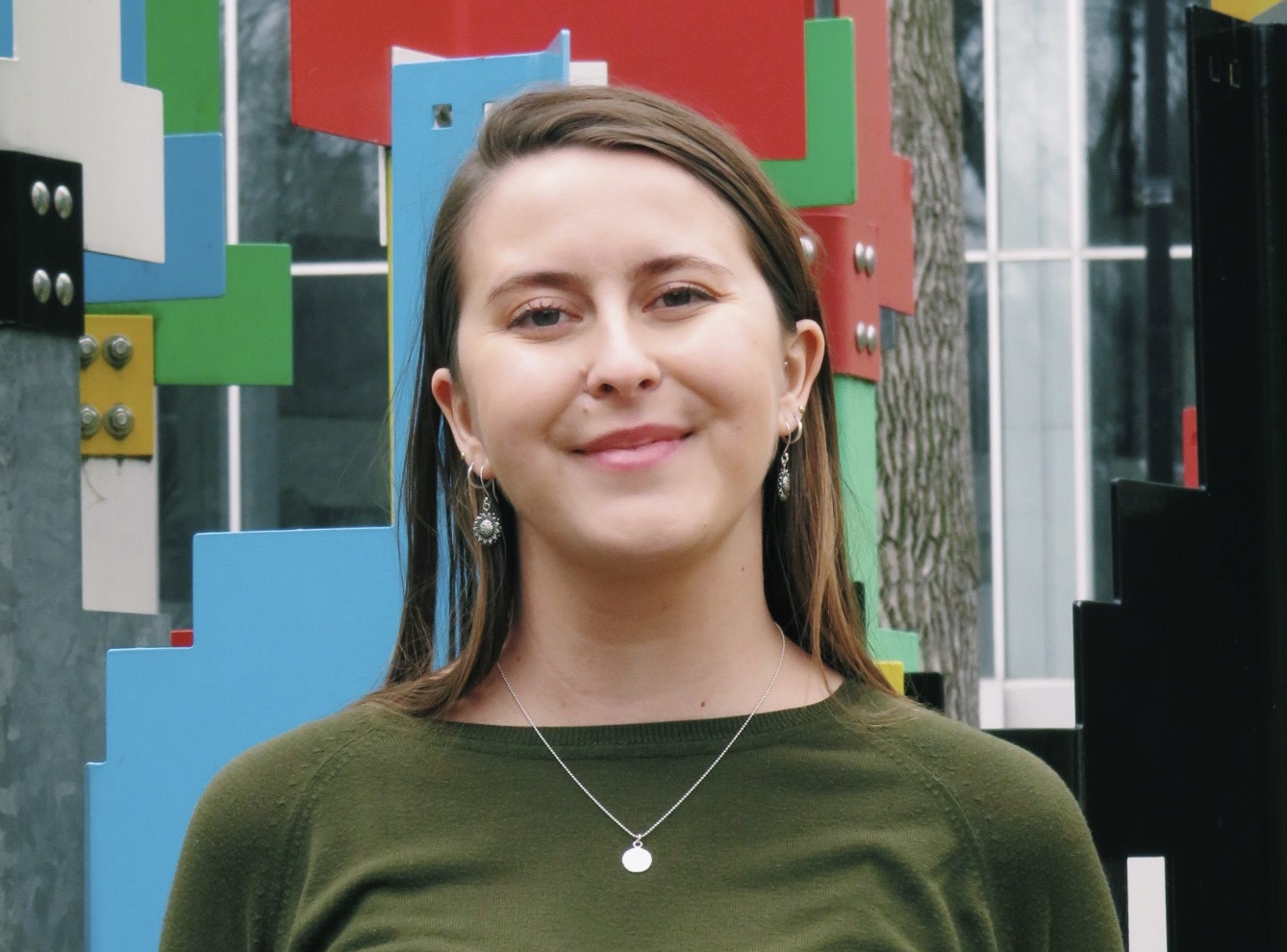 When Charlotte Aubrac began her role as the Post-Graduate Student Society's (PGSSS) Environment Commissioner in 2020, McGill – and the world – had transitioned to connecting entirely online. Despite the barriers to creating sustainable change, Charlotte has continued to push for transformation at McGill through outreach, carbon offsetting projects, gardening initiatives, and Fair Trade Campus certification.
In a sit-down with the Office of Sustainability, Charlotte reflects on how the pandemic has shaped the way she views creating community.
Tell me a bit about yourself and your interest in sustainability.
I was always interested in environmental protection, so when I joined McGill for my undergrad in 2015, I got really involved in student activism around sustainability through different projects.
Because I began in [the sciences], I started learning about sustainability from the perspective of environmental protection, but as I learned more about it, I came to really admire how interdisciplinary sustainability is; it's not just about the environment, it's an umbrella term that includes social justice, equity, and diversity.  You can't just save the bees and accept Indigenous communities without clean drinking water; you need these two things to have a good world.
Sustainability encompasses so many values that resonate with me.
You are involved in many initiatives on campus, what have been some of your favorite memories so far?
I think [getting involved on campus is] a great way to just find like-minded people who may have different ways of thinking about the world or have different ideas for solutions. My favorite role on campus so far has been being a part of the PGSS Environment Committee. I get to work with amazing people, which I love. People come to sustainability from all different backgrounds and it's inspiring to see all of us converge to work on the same issues. Plus, we get to organize awesome events! For example, last summer we organized a cleanup tour on Mount Royal which was led by Redpath Outreach Coordinator Ingrid Birker, who was such an amazing tour guide.
Another way I have enjoyed getting involved is being on the Fair Trade Campus committee. This year we came together for Fair Trade Campus Week, which happened last semester. We organized a PGSS bake sale. This was happening during a bit of gray area in the pandemic regulations-wise, so we would have loved to do more, but couldn't. Hopefully next year we will organize more informative events to raise awareness about Fair Trade on campus.
You began not only your graduate studies, but also your position as PGSS Environment Commissioner during the peak of the pandemic. How has having to adjust to working on sustainability online shaped your perspective of how communities can be created and take action?
I'm going to be honest; it was challenging. I think one lesson that I learned from that is that even though there was a need to feel like people belonged to a community, the online context was not conducive to creating a community. I personally didn't have a lot of success with workshops or live outreach to people because everyone was so burnt out, so I used social media a lot instead. This way I was allowing people to come and engage when they had the capacity to, which is a lot better than trying to force people on zoom for hours.
Despite the challenges, I think there are also many benefits to remote or blended sustainable work. Being on Zoom is definitely way more accessible in so many aspects. During the pandemic, a lot of people weren't in Canada at all, but you could still work together and talk. It's definitely made work and meeting with people a lot more accessible.
How has your experience in your role as PGSS commissioner and your involvement with the McGill Office of Sustainability (MOOS) shaped your idea of sustainability on campus?
I'd like to say that I'm helping cultivate a more sustainable graduate community at McGill, and I do that through organizing events with the Environment Committee, social media, and keeping up with all the sustainability work that's going on campus.
Through this role, I get to interact with different members of McGill as well. One of the good parts about working in the pandemic was seeing how hard everyone else was pushing to address issues despite the circumstances. In my undergrad, I was more involved on the student side and I saw so much effort coming from the student body to make campus a more sustainable place. Now that I have worked as a Commissioner and been involved with MOOS, I admire how much effort is coming from staff and faculty as well.
There are so many people that are so motivated to make this campus more sustainable and who have ideas for different projects. There are a lot of people on this campus that want to make change happen, and it's so inspiring to see and be a part of.
If you had one lesson to share with the McGill community about overcoming barriers to take sustainable action, what would it be?
You have to be patient and you have to stay motivated. Get involved and say yes to projects that interest you, and don't be afraid to ask questions or admit that you are wrong.
Being surrounded with people that have the same values as you is such a great way to get perspective. I feel like sustainability now feels very daunting and there's this huge pressure to be perfect, but I don't believe you have to be. Even just considering the impact of your actions or taking extra time to change one part of your life makes you a part of [the sustainability movement]. Just take one step at a time.
Like I said before, the different perspectives in sustainability work means that we all have something different to bring to the table, even though we share the same values.  There's no guideline for the "right" way to do things, and there are so many ways that you can make a difference, you just have to find which way is meant for you.