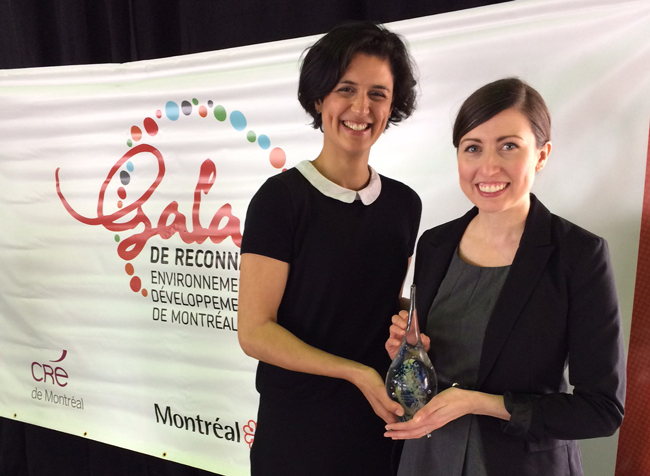 On April 25, the city of Montreal and the Conseil régional de l'environnement honoured McGill's Sustainability Projects Fund (SPF) with one of three prestigious awards at their annual Gala de reconnaissance en environnement et développement durable. The SPF was recognized in the Institutions and Enterprises category, for its innovative and inspiring work in financing the transition to sustainability on McGill campuses.
The SPF is the largest dedicated campus sustainability fund of its kind in North America among peer institutions, and is uniquely committed to collaboration between students and staff in its financing, decision-making, and project implementation. Since its creation in 2010, the Fund has awarded over $5.5 million to over 170 projects, which have yielded dramatic and lasting improvements to McGill's social, economic, and environmental sustainability performance.
"Every significant sustainability achievement at McGill over the past several years – from local and sustainable food sourcing to emissions reductions – has been facilitated to some degree by SPF funding," said Sustainability Director Francois Miller.
The Gala, now in its 11th year, brought together around 450 of the city's sustainability leaders and public figures, including Mayor Denis Coderre.
Accepting the award on the University's behalf was Yves Beauchamp, Vice-Principal (Administration and Finance) at McGill.
Beauchamp noted, "students and the administration invest equally in the fund each year to make our campus greener, more equitable, and more sustainable. The impacts have been truly remarkable. For this, I would like to thank all McGill students, who were the driving forces behind the founding of the fund, and continue to support it today."
On average, over $870,000 is available in the fund each year to help support projects, big and small, ranging from community gardens and anti-oppression workshops to university-wide green building standards. Any student, staff or faculty member can apply to the SPF to help build a culture of sustainability on McGill's campuses, one project at a time.
The Sustainability Projects Fund by the numbers:
SPF has created over 300 student jobs and 2000 volunteer positions
86 per cent of projects are collaborations between students and staff
Project budgets range from $150 to $150,000
The SPF has supported the publication of 25 peer-reviewed articles
Over 300 students have received course credits while working on an SPF project
1,750 students have taken courses in which an SPF project has been integrated
Students give approximately $0.50 a credit to contribute to the SPF, which is matched dollar-for-dollar by the McGill administration
Learn more about McGill's Sustainability Projects Fund